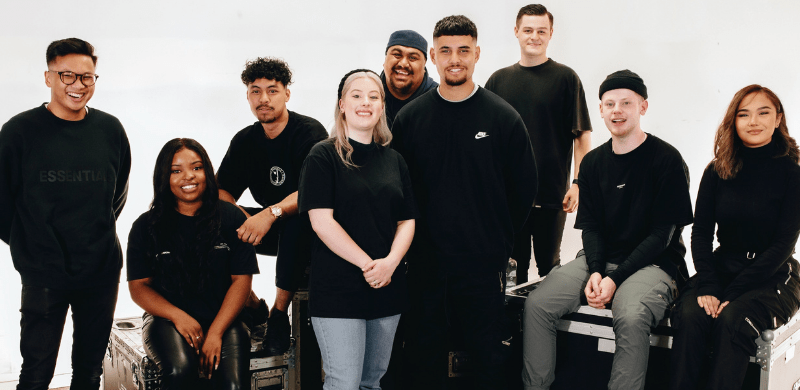 The dynamic, multicultural youth ministry of Planetshakers Church, planetboom, releases its full-length sophomore album, JC Squad, Jan. 15 to digital and streaming outlets globally from Venture3Media (V3M). Available to pre-order / pre-save now at https://lnk.to/JCSquadAlbum, JC Squad will also be featured as an exclusive Deluxe Version from Apple Music and iTunes.
Inspired by the diverse youth culture at planetboom that represents at least 60 nationalities and exists to see this generation encounter the love of Jesus, the new album was produced by creative director Josh Ham, mixed by worship leader Joth Hunt and written or co-written by planetboom youth pastor, songwriter, author and drummer Andy Harrison. Harrison also shares the compelling story of this new album on video.
"JC Squad is really a message about the global Church," says Harrison. "We believe the Church is relevant, crucial and still God's plan, and we are the next generation. We want to champion and uphold the Church – in all of its expressions – in the hearts and minds of young people all around the world."
Along with the declarative "Jesus Is The Key," "ILY" and "Unshakeable," 'K-pop style' song of thanks, "Kamsahamnida," and title track that highlights vocalist / rapper Noah Walker leading this percussive and inclusive, dance party-like invitation, JC Squad features more pure, joyful expressions.
"In the stress of 2020 global events, anxiety has taken its toll on young people all around the world," recognizes Harrison. "Our new song, 'Got Me Like,' is a reminder that God's joy can cut through the darkness. As the lyrics state, Right about now is a good time to just stop, and have a good time… The song celebrates the goodness of God's love."
Balancing the album's lighthearted notes are some war cries like "I'm Alive." A staunch, put-your-foot-down declaration of belief, the song gives voice to young people's struggle against temptation, mental-illness and isolation, and points the way to victory through the Gospel.
While not able to gather for in-person events around the world due to the pandemic, planetboom will be sharing a live online, full production concert presentation of all the songs on JC Squad from Planetshakers Church in Melbourne, Australia and via YouTube Jan. 15 beginning at 8:30 pm EST / 7:30 pm CST. The link to view this JC Squad YouTube Premiere is planetboom.com.au/JCSquad. Part of a global movement, planetboom's album premiere will include backstage interviews, behind-the-scenes footage and interaction from watch parties happening in South Africa, Singapore, Columbia, South Korea and other countries around the world.
"In a season where we are not able to gather as we once would have, we wanted to be able to still represent the next generation of the Church from all around the world and show young people that they really are a part of something so much bigger than themselves," says Harrison. "God had a plan from the beginning. Before 2020, before me and you, before viruses, before sickness at all, before Adam and Eve in the garden, even before the world was created, it was always about Jesus."
"We're a part of something so much bigger than ourselves, and every one of us counts," agrees planetboom's Aimee Evans. "No matter where you are in the world and what challenges you might be facing, you're not alone or isolated. You're significant, and you belong here. We're in this together, united by our faith in Jesus. This is His story, but He's written-in a role that only you could play. We are the JC Squad."
The full JC Squad track listing follows:
01) Walk
02) JC Squad
03) Got me Like
04) I'm Alive
05) ILY (Live)
06) All I Need
07) Jesus Is The Key
08) Unshakeable
09) Battleborn
10) Kamsahamnida (Live)
11) Loved By You
12) Praise Over Problems (VIP Mix)
The new album follows planetboom's acclaimed and first full-length album, companion book and audiobook, all entitled Jesus Over Everything.
All the latest planetboom news and updates can be found at www.planetshakers.com/planetboom, Facebook, YouTube, Spotify and Instagram.