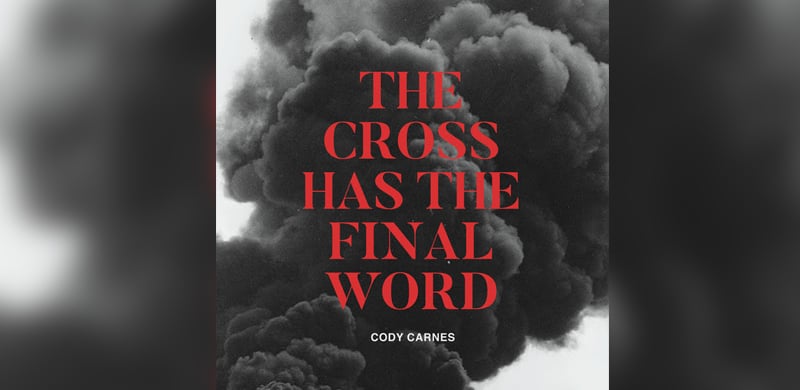 Worship Leader and Songwriter Cody Carnes Releases Debut Single "The Cross Has The Final Word" Today
Capitol CMG Welcomes Cody Carnes to their Roster
NASHVILLE, TENN. (FEBRUARY 24, 2017) Capitol CMG welcomes worship leader and songwriter Cody Carnes to their roster family as he releases his debut digital single, "The Cross Has The Final Word," available today. Listen below to this powerful new worship anthem that is making an impact around the world. Celebrating the new single, the live music video debuts today.
"I started writing the song last year on Good Friday," shares Carnes about the debut single. "I was sitting at home reflecting on the cross and asking God to show me hope in the midst of a world full of darkness and fear. I feel like He spoke that statement 'The Cross Has The Final Word' to me, and it instantly reminded me that He's always in control, that He knows the end from the beginning and that darkness and fear lost its power at the cross. I pray that this song plants faith in your heart as you declare it over whatever situation you're in. I think many times an impossible situation is a setup for God's miracle."
Cody Carnes is a worship leader whose passion is to create a meeting place for God and people with music. Many will recognize him from his time leading worship with Gateway Worship as well as being on the road and leading with his wife and fellow labelmate Kari Jobe Carnes. With Kari, Cody has co-written many songs such as "Let the Heavens Open" from her Dove Award winning album Majestic and most recently eight tracks off of her release The Garden. Cody will be on tour with Kari for The Garden Tour that began earlier this week hitting major markets across the nation and performing his new single. Click here for the tour dates and cities.
"I'm so excited to be joining the Capitol CMG family," Carnes states. "After getting to know them through working on Kari's projects, I've seen them steward albums and songs with humility, integrity and passion. I love that about them, and I believe we'll make some great records together."
Stay tuned for more information on his label album debut coming in 2017.