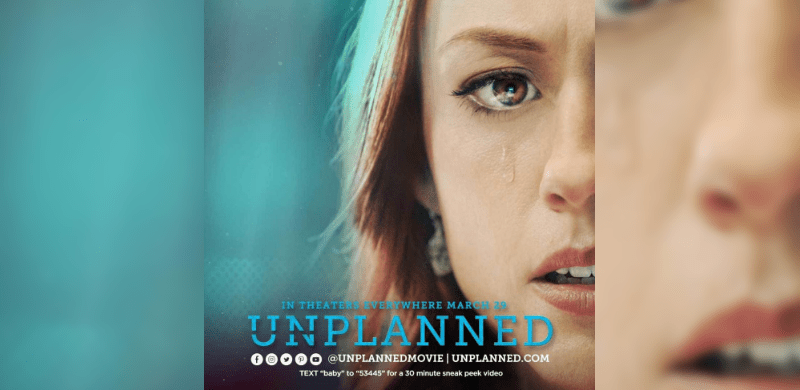 Former Abortion Industry Worker and Planned Parenthood Employee of the Year
Turns Whistleblower to Abortion Giant After Assisting in an Ultra-Sound Guided Abortion Procedure
Nashville, Tenn. (Jan. 31, 2019) – UNPLANNED: THE TRUE STORY OF ABBY JOHNSON – in theaters nationwide March 29, 2019 – is the dramatic account of a former Planned Parenthood superstar. Johnson was one of their greatest allies as the youngest director of a clinic in the nation, until she walked out after assisting in an abortion of a 13-week-old fetus.
Abby worked for the abortion industry for eight years and was awarded the 2008 Employee of the Year at Planned Parenthood. She became a national headline when she walked out and even though Planned Parenthood tried to silence her, no court found their arguments credible.
"I thought I was helping women," said Abby Johnson, founder and director of And Then There Were None, the only group in the country that helps abortion workers exit the industry and find them new jobs. "But I was doing more harm than good. It wasn't until I saw a child fight for its life that my world came crashing down and I understood the enormity of my actions. I had to leave. No one will be able to walk away after seeing this movie and say 'I didn't know.'"
During her time as director of Planned Parenthood in Bryan, Texas, Abby facilitated over 22,000 abortions. Since leaving, she has helped nearly 500 former abortion workers, including seven doctors, leave their jobs and find fulfilling careers outside of the abortion industry.
Bringing to life this powerful real-life story of redemption and love, UNPLANNED stars Ashley Bratcher (War Room, 90 Minutes In Heaven) as Johnson; Brooks Ryan as her husband, Doug; Robia Scott (CSI, Buffy The Vampire Slayer) as Abby's superior at Planned Parenthood; Emma Elle Roberts (Hunger Games:Mocking Jay, I Am Not Ashamed) as Marilisa Carney, Kaiser Johnson (Little Boy, Vampire Diaries, Sleepy Hollow); and Jared Lotz (Of Little Convenience, Thanksgiving) as Shawn Carney.
Actress Ashley Bratcher was nearly aborted by her own mother, which she didn't find out until filming began. "I was born for this role," said Bratcher.
Written, produced and directed by Cary Solomon and Chuck Konzelman, (God's Not Dead, God's Not Dead 2, Do You Believe) and produced by Daryl Lefever (I Can Only Imagine), UNPLANNED puts the story of Abby Johnson, the most prominent defector from the abortion industry, on the big screen at a time when the life issue is hanging in the balance amidst a divided political landscape.
"This is the most important movie anyone will ever see on the most controversial issue of our time," said Solomon and Konzelman. "When UNPLANNED comes to theaters, this movie will make abortion unpopular."
With nearly one million abortions that take place each year in the United States, and public opinion evenly split on the topic, UNPLANNED shows what life is like on both sides of the fence.
For more information on UNPLANNED, visit www.unplanned.com.