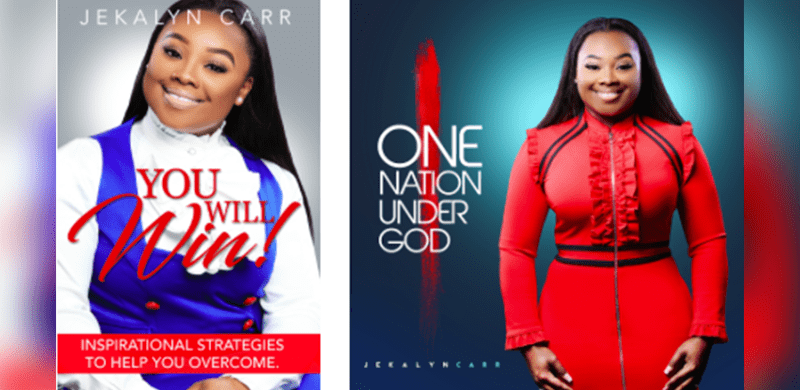 "You Will Win" Single Spends 4th Week At No. 1
On Billboard And Mediabase Gospel Airplay Charts
Jekalyn Carr Launches Radio/Press Tour
In Support Of New Book And Album Release This Week
Radio and Press Stops this Week Includes: ASCAP Listening Party in NYC,
TBN Live with Clifton Davis, Arise 360 TV, ABC Radio,
Rejoice Music Soulfood and Interactive One
ATLANTA, GA (Monday, February 19, 2018) — Celebrating a banner year in 2017, which includes a GRAMMY® and two Billboard Music Award nominations for her 2016 Billboard No. 1 third independent project The Life Project (Lunjeal/eOne) and No.1 smash hit "You're Bigger," 20 year-old Billboard No.1 recording artist, actress, entrepreneur, motivational speaker, author and one of Ebony Magazine's 100 Most Influential People in the World recipient, Jekayln Carr, is set to release her first book "You Will Win!: Inspirational Strategies to Help You Overcome," this Tuesday, February 20th and her fourth independent project, ONE NATION UNDER GOD (Lunjeal/New Day) this Friday, February 23rd. Carr's current single "You Will Win" (her second consecutive No. 1 single) spends its 4th week atop both Billboard and Mediabase Gospel Airplay charts with a listenership of over 2.7 million.
In support of her book and album release, Carr launched an 11-city press and radio promotional tour with stops this week in Dallas and New York and appearances including; TBN Live with Clifton Davis, ASCAP Album release listening party, ABC Radio, Arise 360 TV, Interactive One to name a few.
Carr's first book You Will Win… is a printed and digital resource that will provide Biblical and relevant insight for believers including collections of Jekalyn's most poignant and riveting exhortations, pointers, impactful and inspirational messages, that will help readers conquer their storms, live in victory and maintain a winning attitude. As a young motivational speaker for over ten years, Jekalyn has traveled the country speaking to audiences. You Will Win is a reminder that words have the power to create and speak happiness and joy into your life. Jekalyn provides 14 principles to follow and apply along the path to winning. She also offers 7 ways to win and 12 habits for a win. You Will Win… is published through Trinity Broadcasting Networks (TBN) — the company's first book release.
Carr's fourth project, One Nation Under God, is a call for all of God's people to unite, removing the limitations of race, religion, denomination, organization, location, gender, or class. Carr addresses how God desires to see His people, and how we should see ourselves – as one united body of believers. The 15-track project features guest appearances from Donald Lawrence, Nariah Smith, Hope Church, Brown Baptist Church and Ashley Mackey and is produced by Jekalyn's father, Allen Carr, who's produced and written her biggest records such as; "Greater Is Coming" and the GRAMMY® and Billboard Music Award nominated hit song "You're Bigger." The father-daughter duo proves again to be an awesome joint force in uplifting God's name and His people.
Watch Jekalyn Carr Perform Her Billboard No. 1 Song "You Will Win" Below:
You Will Win/One Nation Under God Press & Radio Tour Itinerary:
Feb 19: Dallas, TX
Feb 20-22: New York
Feb 26: Norfolk/Va Beach
Feb 27-Mar. 1: Atlanta
Mar 1-5: DC/Baltimore
Mar 7-8: Detroit
Mar 9: Memphis
Mar 14: Jackson, MS
Mar 19: Richmond, VA
##