Two-Time Grammy Award-Winning Duo for KING & COUNTRY Debut Poignant New Single and Video for "joy."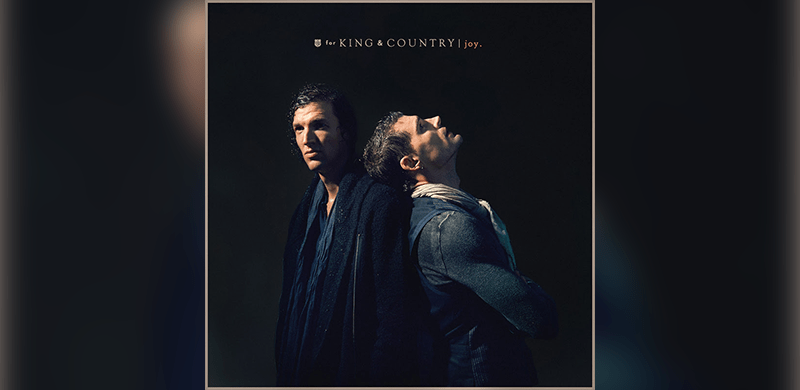 Two-time GRAMMY® award-winning duo for KING & COUNTRY released their poignant new single entitled "joy." today, which debuted simultaneously with the track's official music video, premiering on Apple Music. The song's message is revealed quite clearly in not only the lyrics, but in its accompanying music video. "joy." is the debut single from their highly-anticipated forthcoming third studio album, set to release later this year.
Listen to the track HERE.
Watch the video exclusively on Apple Music HERE.
for KING & COUNTRY is comprised of Australian brothers Joel and Luke Smallbone. Reflecting on the video, Joel explains, "We came up with the concept to shoot the video in a mock television studio as a fun metaphor to represent the need to work through the noise – to remind us that joy can always be found in any circumstance. We hope that the idea behind the song (and video) will place a spotlight on the truth, that we can actively and deliberately – moment by moment and day by day – search for and choose "joy."
Luke Smallbone added, "We're not talking about happiness, we're talking about joy, and I think there's something very, very different about those two words and how important it is for us to not just let joy fly by us, but to actively choose it. When you wake up in the morning, are you going to be joyful? I think that's a decision we all get to make."
The music video includes a cameo appearance by Emmy-nominated actress Candace Cameron Bure as a nightly news anchor who communicates the important message that "while our circumstances haven't changed, our perspective can."
for KING & COUNTRY sat down with Billboard to discuss their journey to 'joy." Read their in depth conversation in "Breaking News" HERE.
The Tennessean proclaims, "The lyrics to 'joy.' are set to an infectious, swelling melody that compels listeners to physically respond." Read the full feature HERE.
About for KING & COUNTRY
Soaring melodies, driving rhythms, personal themes, and theatrical instrumentation & performances are the heartbeat of two-time Grammy award winners, for KING & COUNTRY. The Australian duo, comprised of brothers Joel & Luke Smallbone, garnered unanimous critical praise with their latest album – RUN WILD. LIVE FREE. LOVE STRONG. celebrated a RIAA certified gold record, No. 1 debut on iTunes, a headlining tour with 28 sold-out shows and a 60-date arena tour. Two singles from their debut album Crave also achieved gold status – their crossover hit "Fix My Eyes" and "The Proof of Your Love." They've sold nearly 900,000 equivalent albums, amassed 284M on-demand streams, and 93M YouTube views. In October 2016, the Smallbone brothers released the indie film, Priceless, about human trafficking. They've performed on Jimmy Kimmel Live! The Today Show, The Tonight Show, The View, FOX & Friends, and have had songs featured on the Emmys, The Super Bowl, Sunday Night Football, U.S. Open, 7UP, and ABC's The Good Doctor. They are now working on their third studio album set to release in 2018.
##