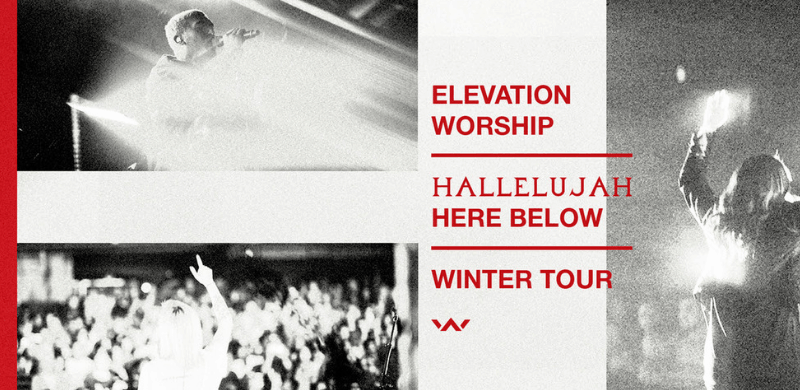 Elevation Worship Announces Tour Dates for
Hallelujah Here Below Winter Tour
Charlotte, N.C., (Nov. 6, 2018) – Elevation Worship announces their winter tour where they will be performing their new album, Hallelujah Here Below, as well as older fan favorites. With songs like "Won't Stop Now" and "Here Again," Elevation Worship is excited to take their impactful new music on the road.
The Hallelujah Here Below Winter Tour starts January 21 and goes until January 30, spanning across seven states along the east coast. After selling out in New York City, Pittsburg, Dayton, OH, and more during their highly-successful fall tour, they're excited to visit even more locations.
"We had so many unforgettable nights on the first part of our Hallelujah Here Below tour this fall," says Chris Brown of Elevation Worship. "Can't wait to be in some new cities this January bringing the message of freedom we have in Jesus and worshipping Him along with new friends."
Hallelujah Here Below is the newest album from Elevation Worship which released in September. This album followed There Is A Cloud –– which included current AC radio top-10 hit, "Do It Again." For more information about ticket sales, locations, and tour dates, head to https://bit.ly/2RxHv5l.
About Elevation Worship:
Elevation Worship is the worship ministry of Elevation Church, a multisite church based in Charlotte, NC, led by Pastor Steven Furtick. Their most recent album, Hallelujah Here Below, was released on September 28, 2018. Their previous album, There Is A Cloud, featured the top-5 Christian radio song "Do It Again." In addition to headlining the 2018 Outcry tour, they have toured previously with prominent bands such as Hillsong Worship, Bethel Music, Kari Jobe, Jesus Culture, Lauren Daigle, and Travis Greene. For more information, visit www.elevationworship.com.
Get Connected with Elevation Worship:
Website: www.elevationworship.com
Facebook: https://www.facebook.com/elevationworship/
Twitter: @elevation_wrshp
Instagram: @elevationworship
##