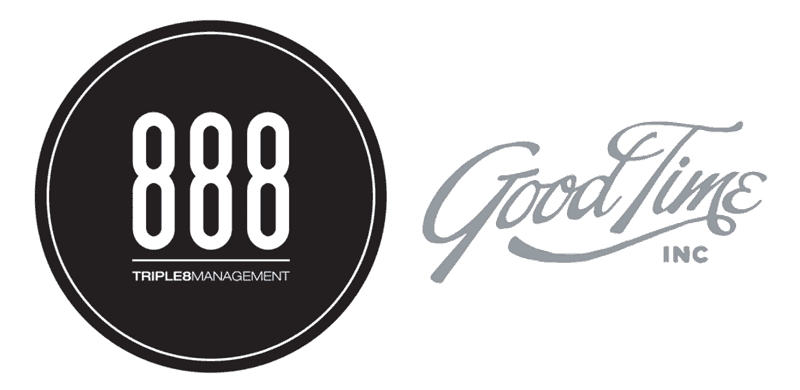 Triple 8 envelopes Good Time, Inc. team and artist roster of six including Judah and the Lion, Drew Holcomb & The Neighbors, and more
Nashville, Tenn. – As reported today by HITS, Triple 8 Management has acquired Nashville-based Artist Management, Marketing Agency and Independent Label, Good Time Inc.
Good Time Inc.'s CEO and Founder, Paul Steele, and team of seven will join Triple 8 Management's 30-plus full-time staff with offices in Nashville, Tennessee and Austin, Texas.
Triple 8 founding partner George Couri shares, "We have a particular way we look at breaking and developing artists with our in-house management and marketing teams, and we continually look for more creative and impactful ways to do that. When the opportunity to unite with such a creative and multifaceted company as Good Time Inc. presented itself, we immediately recognized the benefit this affords us all to extend the amount of services we provide our combined rosters even further. These are more of our kind of folks."
"Bringing Paul, Ben, Sam and their team into our Triple 8 Management family was a very organic and logical next step for George and I," adds Triple 8 partner Bruce Kalmick. "They bring a similar 'get it done' style and a ton of passion into any artist's career, and we welcome the addition of their fine stable of artists."
Good Time Inc. clients Judah and the Lion, Drew Holcomb & The Neighbors, Ellie Holcomb, Kris Allen, Penny and Sparrow, and Wilder join Triple 8's dynamic roster that currently includes a mixture of genres including Eli Young Band, Kaleo, Chase Rice, Joe Nichols, Josh Abbott Band, Ryan Hurd, The Cadillac Three, MISSIO, Scotty McCreery, Wheeler Walker, Jr., among others. The first joint signing under the new partnership is a new project from Universal Nashville recording artist Dan Tyminski.
"We feel very fortunate to have found a like-minded team at Triple 8," shares Good Time Inc. CEO and Founder Paul Steele. "My staff and I are humbled and honored to be presented with this opportunity to continue to build upon the solid foundation we have laid together and expand within the vibrancy of Triple 8, to better serve our artists and one another."
Founded on 08/08/08, Triple 8 Management is uniquely designed with a highly-favorable staff-to-artist ratio. Triple 8 has since grown domestically and internationally beyond its early roots in the country music genre, fostering the global success of rock band Kaleo, who have garnered 12 Gold and Platinum certifications around the world, as well as electronic/pop duo MISSIO, whose debut was the highest new ALT debut of 2017 finishing at No. 8 on Modern Rock/ALT charts. Combined milestones between Triple 8 and Good Time Inc. include 13 No. 1 songs across multiple genres at multiple major radio formats, nine chart-topping Billboard album debuts, major award nominations and award wins from the ACMs, CMAs, CMTs, GMAs, and GRAMMYs. Triple 8 has also led multiple independently released album launches resulting in more than 2 million in album sales as well as multi-million-dollar touring enterprises for new artists—having done so both with and without significant radio airplay.
Earlier this year Triple 8 partnered with Sony Music New York and Nashville-based artist development and marketing company Thirty Tigers to form Triple Tigers, a new label imprint focused on country music led by General Manager and veteran radio promotion executive Norbert Nix.
##