"The Jesus Music" Premieres in Nashville with Star-Studded Red Carpet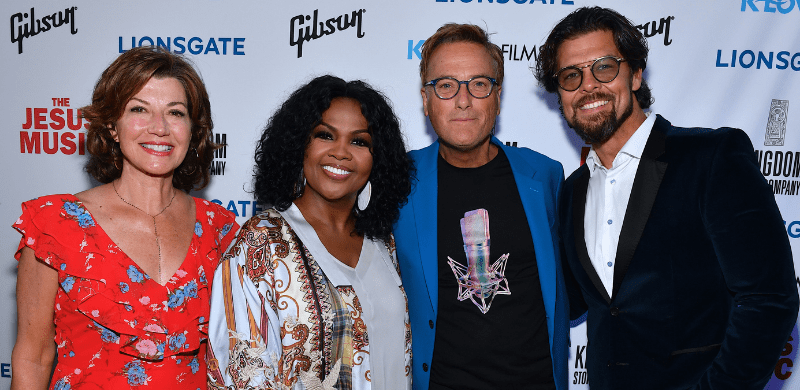 Nashville, TN…. 9/28/21 – Last night Nashville's Country Music Hall of Fame saw some of the biggest names in the history of Christian Music fill the red carpet for the premiere of The Jesus Music film, which Lionsgate is releasing to theaters nationwide this Friday, October 1st.
Amy Grant, Michael W. Smith, TobyMac, CeCe Winans, Bart Millard from MercyMe, Joel Smallbone from for KING & Country, Newsboys' Michael Tait and Duncan Phillips, Rebecca St. James, John Schlitt, Russ Taff
and more were in attendance. Along with a surprise proposal on the red carpet with the help of Tait and Phillips, the night was filled with laughter, reminiscing and music, with an all-star performance capping off the evening's after-party from Russ Taff, Michael W. S
mith, CeCe Winans, Rebecca St. James, John Schlitt and backup band Sixwire.
With stirring songs of faith, love, and hope, Jesus music rose from America's 1960s counterculture movement to become a worldwide phenomenon. This fascinating documentary reveals the music's uplifting and untold story — from its humble beginnings at the Calvary Chapel in Costa Mesa, California through its transformation into the multibillion-dollar industry of Christian Contemporary Music today. Directed by the Erwin Brothers ("I Can Only Imagine," "I Still Believe", "American Underdog: The Kurt Warner Story"), THE JESUS MUSIC is the definitive love letter to CCM fans that features intimate interviews with the genre's biggest stars including Amy Grant, Michael W. Smith, TobyMac, Kirk Franklin, and Lauren Daigle. With stories of trials and triumphs, the universal power of music from these artists shine through from their messages of passion, sacrifice, and redemption that inspire millions of devoted listeners.