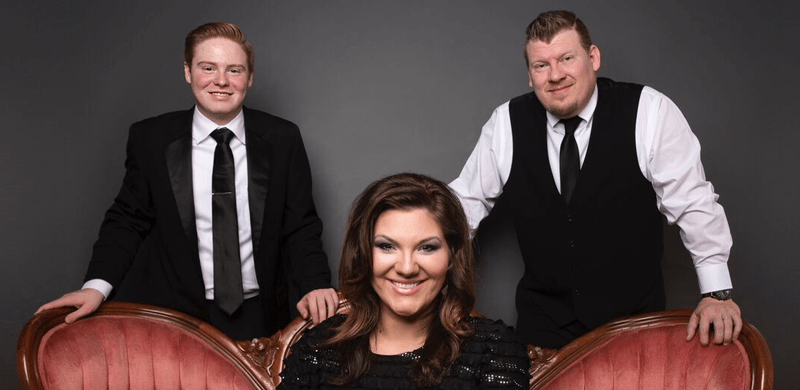 NASHVILLE, Tenn. – (September 22, 2017) – One of the fastest rising artists in the Gospel music community, the Griffith Family, recently reached agreements with two industry powerhouses this week. The group reached an exclusive recording and distribution deal with Newday Records, a division of Daywind Music Group and Newday Distribution. In addition, the promising new act signed an exclusive publicity deal with AG Publicity.
Tony Griffith stated, "We are excited to start this new season with such a great group of people. The names Daywind and Newday come with so much prestige. We just feel blessed that they would have us."'
Scott Godsey, A&R Director for Daywind Music Group, said, "I'm happy to welcome the Griffith Family to the Daywind Family. I feel like there is a special place in the industry for them. Their future looks very bright."
The Griffith Family's debut recording for Newday Records has an anticipated release in early 2018. The first single from the exciting release impacts radio this month. The song titled "That's Who He Is" was written by Matthew Lawson and Karen Gillespie.
Beckie Simmons of the Beckie Simmons Agency commented on the Griffith Family, "I have known the Griffith Family for many years and believe in the Griffith Family! They are so talented and hardworking. Julie is very talented and such a great singer. Tony has been in many areas of Gospel Music and he is so gifted at everything he does. This union with Newday Records will be a success for both of them."
Through the agreement with AG Publicity, the Griffith Family will have access to all media publications serviced by the reputable publicity firm, as well as marketing possibilities with the organization.
The Griffith Family has become one of the industry's most sought after new artists over the last few years, earning a spot on a national tour with Adam Crabb (Gaither Vocal Band, Crabb Family), television spots on TBN and other networks, and appearances on major stages like Dollywood and the National Quartet Convention.
To purchase The Griffith Family music go to:
https://griffithfamilymusic.com/store | iTunes | Amazon
To connect with The Griffith Family:
https://griffithfamilymusic.com/
Facebook
Twitter
Instagram
YouTube
About The Griffiths
Tony, Julie and Bryce have known since childhood that they were called to ministry. Each of them grew up singing with their family groups and being in leadership at their home churches. In 2006, Julie came on the road with The Griffith Family and two years later, she and Tony were married. After a few years of being on the road, there was a period of time when Tony and Julie decided they needed to take a break from the road and get spiritually fed for a while. During that time, God moved them into a season for just that. God had ministered and moved in both Tony and Julie's lives in the most powerful way they had ever seen. They experienced first hand how God answers prayers and how He would strengthen and prepare them for what He was about to do in their ministry.
In August of 2014 Tony and Julie felt that God was impressing on their hearts to return to the road, 2 months later the new Griffith Family was formed.
The Griffith Family has seen some major steps take place, including a relocation to the Nashville, TN area as they transitioned to a full-time touring schedule shortly after their ministry began.
The group's debut, self-titled album features songs from some of Southern Gospel's best songwriters like Marty Funderburk, Daryl Williams, Rebecca Peck, Glen Bates along with Tony Griffith contributing his writing talents to the album. The first single from the project debuted in the Singing News Top 80 chart and the album was released in September by Mansion Entertainment through its Sony RED distribution relationship.
Their sophomore project, Give His Love Away, was released in 2016 and includes a guest appearance by Adam Crabb. The Griffith Family also completed a tour that same year with Adam. The release of this project followed with radio and television appearances including an appearance on TBN's Praise The Lord.
More importantly, The Griffith Family share a personal message in their live appearances that resonates with listeners needing to know the love and grace of God.
Their touring schedule has taken them across the United States and Canada into churches, various concert venues and stepping onto high profile stages such as the South Carolina Songfest in Spartanburg, SC, appearances at The National Quartet Convention and numerous appearances at Dollywood in Pigeon Forge, TN. Label Manager, John Mathis of Mansion Entertainment, summed up the growing requests for appearances by the group, "The Griffith Family has a performance style that appeals to people's musical tastes but they have a way of sharing in person that is appealing to their hearts.
##