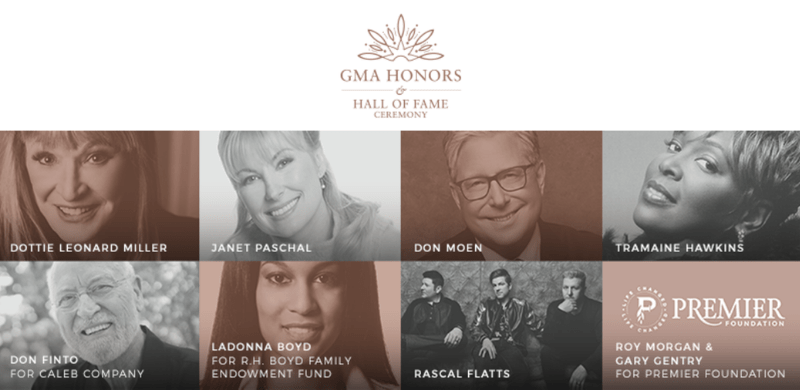 NASHVILLE, Tenn. (May 8, 2019) – The 6th Annual GMA Honors and Hall of Fame Ceremony was held this evening at Lipscomb University in Nashville. Legendary CCM artist Don Moen, President and CEO of New Day Christian Distributors Dottie Leonard Miller, southern gospel artist Janet Paschal and GRAMMY® award-winning gospel singer Tramaine Hawkins were inducted into the GMA Gospel Music Hall of Fame.
The event also honored individuals and organizations that are impacting our culture both past and present. This year's honorees included Don Finto for Caleb Company, R. H. Boyd Family Endowment Fund, Premier Foundation and country group Rascal Flatts.
The event featured heartfelt tributes and memorable performances by Christian and Gospel music all-stars and special guests, including Governor Bill Lee, Dr. Bobby Jones, Gloria Gaither, Joel Smallbone, Jonathan McReynolds, Kelontae Gavin, Paul Baloche, TaRanda Greene, The Martins and many more.
GMA Honors will return next year on May 6, 2020. For more information, visit www.gospelmusichalloffame.org.
Event Highlights:
"When I was 22, I stumbled into a little church on music row called Belmont church. I came from a traditional church and I remember telling my friend with me that I think it might be a cult. There was something about that place. I now know it was the spirit of God that made me come back and keep coming back. He not only influenced me, he influenced the Kingdom and this community as that church became the life blood in many ways–a profound effect on this city." – Governor Bill Lee
"Many years ago while I was praying about writing new songs, God spoke to me very clearly from Psalm 40:3. 'I have put a new song in your mouth, a song of praise to our God; many will see it, fear it and put their trust in the Lord.' I'm thankful to God for answering my prayer, for putting a new song in my mouth, a song of praise to our God, and allowing me to be a part of something much bigger." – Don Moen
"The people in this room, some I have known for decades, have the responsibility to pass the good news and the hope forward of Jesus Christ in a world that so desperately needs it today. It is overwhelming. I love these guys so much. We have been in the trenches for nearly 20 years now. To watch some of the things on the screen we have done, it is very emotional. We just wanted a song on the radio. I have to give the glory back to God tonight, for giving us the incredible platform we have had to do some of these incredible things." – Rascal Flatts, Jay DeMarcus
About Gospel Music Association & Foundation:
Founded in 1964, the Gospel Music Association serves as the face and voice for the Gospel/Christian music community and is dedicated to exposing, promoting and celebrating the Gospel through music of all styles. The GMA produces the GMA Dove Awards, The GMA Hall of Fame Induction and Honors Ceremony and the IMMERSE Conference. For more on supporting the GMA or becoming a member, please visit gospelmusic.org.