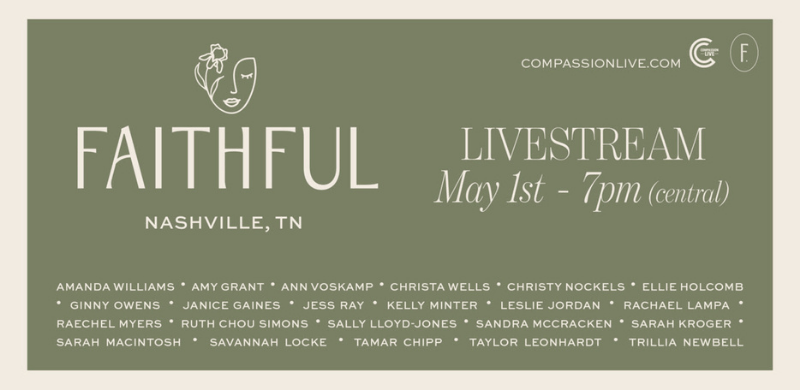 26 February 2021 – Nashville, TN – Earlier this year it was announced that the ministries of Compassion International, David C Cook, and Integrity Music are releasing the FAITHFUL Project, a collaborative project encapsulating a book, music, and livestream event. The album, FAITHFUL: Go and Speak, is slated to drop April 30, the FAITHFUL book will release May 1, and today, tickets go on sale for the FAITHFUL Livestream event to be held Saturday, May 1. Click here for more information.
The FAITHFUL Livestream will be an amazing and unforgettable evening created and curated by some of the most thought-provoking and influential Christian artists and authors of our time. This unprecedented livestream will feature a collaboration between many of the FAITHFUL artists and authors sharing God's faithfulness to women throughout Scripture and all the way to present through stories and song. It is the hope of everyone involved that each viewer will walk away from the livestream event with an increased understanding of how God has always valued the integral role of women and how He continues to guide, shape, and protect their lives today. The livestream event is being produced by Compassion LIVE, established in 2014 by Compassion International, which produces life-changing events that share the message of faith and impact the church for children around the world.
Ticket prices for the FAITHFUL Livestream event begin at just $29. For only $59, it includes a ticket to the livestream along with a copy of the FAITHFUL book and the FAITHFUL: Go and Speak CD. As a third tier, for a child sponsorship through Compassion International, you will receive a ticket into the FAITHFUL livestream, the book and CD, plus access to a separate VIP on-demand series. Featuring a deeper dive into the stories and songs of FAITHFUL, this VIP series offers the opportunity to lean in, finding hope and connection with the enduring legacy of women in the Bible.
HERE'S MORE INFORMATION: When a young girl feels empowered, she stands up against injustice. She stays in school and resists early marriage and fights exploitation, and she grows up to teach the next generation of girls that each one is created by God with a purpose and a plan. We know that it's impossible for anyone to reach their potential when their basic needs – food, shelter, clothes, and healthcare – are not met. By sponsoring a child through Compassion International, you can take the heart of the FAITHFUL project and put it into action. The participating artists and authors tell the stories God's faithfulness to women throughout Scripture, and we can take it a step further by showing these young girls what it looks like to be loved, protected and known. For tickets, visit here.
MORE ABOUT THE FAITHFUL PROJECT: Coming to life in the winter before the pandemic, a group of well-known and respected authors and songwriters gathered as a community to write and share songs. Their work came to be known as FAITHFUL, songs and stories of God's kindness to women throughout history and here with us today.
The FAITHFUL book is an eclectic collection of written stories, lyrics, photos, and art created and curated by some of today's most distinguished and thoughtful Christian artists and authors. Amanda Bible Williams, Ann Voskamp, Ginny Owens, Kelly Minter, Kelly Needham, Lisa Harper, Raechel Myers, Ruth Chou Simons, Sally Lloyd-Jones, Sarah Macintosh, Savannah Locke, and Trillia Newbell, with an introduction by Amy Grant, gathered to create this keepsake book that celebrates God and the enduring legacy of women in the Bible.
The album, FAITHFUL: Go And Speak, shares songs from many of today's renowned artists, songwriters, and authors. Each song on this special thematic album features a woman telling the story of God's faithfulness throughout Scripture to the present day, and this collaboration between artists and authors has led to a collection of poetry and resonance through song. Artists involved on the album are Amy Grant, Ellie Holcomb, Ann Voskamp, Sarah Macintosh, Sandra McCracken, Ginny Owens, Leslie Jordan, Christy Nockels, Rachael Lampa, Kelly Minter, Savannah Locke, Sarah Kroger, Christa Wells, Tamar Chipp, Jess Ray, Janice Gaines, Trilla Newbell, and Taylor Leonhardt.
To find out more about FAITHFUL's livestream event, book, and music, please visit FAITHFULPROJECT.com.