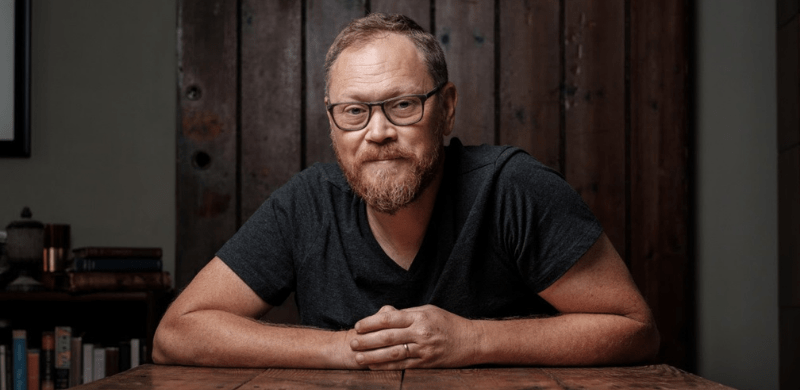 Recording artist, songwriter, producer, filmmaker, publisher and award-winning author Andrew Peterson returns to Nashville's Ryman Auditorium, bringing his "Easter Monday" to the iconic venue for back-to-back events April 5. Featuring a full band, singer / songwriter Taylor Leonhardt and special guest Skye Peterson, the limited capacity evening presentation is already nearly sold-out and a second matinee has been added.
Peterson is also inviting those not able to attend in-person to join the "Easter Monday" event via livestream from anywhere in the world. The livestream begins at 7:00 pm CT on April 5 with single household and congregation / group tickets available now at andrew-peterson.com/easter-monday. Congregations / groups that order before March 26 will also receive a personalized greeting video from Peterson.
While at the Ryman, Peterson will lead fan favorites from his expansive song catalogue along with a special focus on his highly-acclaimed Resurrection Letters Anthology that includes the Prologue, Volume 1 and Volume 2 album trilogy. Prologue is a collection of five "waiting songs" meant to remind listeners of the gravity of the crucifixion while Volume 1 features his globally-sung call and response anthem for the church, "Is He Worthy," and begins with the heartbeat of the resurrected Christ, exploring the resurrection itself and its centrality to Christianity. Volume 2 songs delve thematically into the implications of Christ's resurrection victory over sin and death.
"The Resurrection Letters songs were ten years in the making. I cried more joyful tears during the process of writing and recording them than any others because the subject matter is so very good and beautiful and true," says Peterson. "It's my sincere hope that the same feeling will be reflected on this Easter Monday – that you'll be moved to greater gratitude, greater awe, and greater love for our Lord after dwelling on these songs and singing them with us. He is risen, indeed."
This year's "Andrew Peterson's Easter Monday at the Ryman" concert is being sponsored by ChildFund, a child development organization based in Richmond, VA that is committed to improving the well-being of children in some of the world's poorest places. The event is also sponsored by Samaritan Ministries, a community of Christians paying one another's medical bills, and B&H Publishing Group, an imprint of LifeWay Christian Resources and a team of mission minded people with a passion for taking God's Word to the world.
In addition to his music and touring, Peterson's novels in his wildly imaginative fantasy adventure series, The Wingfeather Saga, have released in special editions from WaterBrook/Penguin Random House. The six books are available as collector's hardcovers that include all new illustrations and hand-drawn maps, intrinsic to the classic and imaginative Wingfeather style.
Peterson also released his first adult trade book, Adorning the Dark: Thoughts on Community, Calling, and the Mystery of Making. Receiving awards from Christianity Today, WORLD Magazine, The Gospel Coalition and more, this memoir of Peterson's journey shares the intersection of his songwriting, storytelling and vocation, along with nuts-and-bolts exploration of the great mystery of creativity.