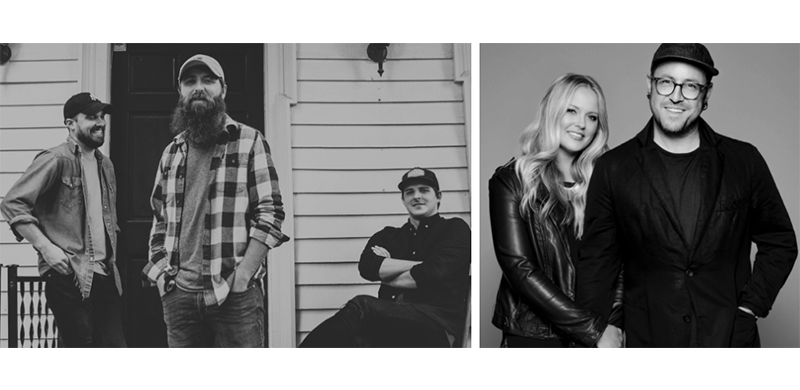 Kilgores' First Single, "Grace, Grace," Available August 24;
EP Due In October
NASHVILLE, Tenn. – – Newly launched independent label The Creak Music has inked an agreement for the collaboration and global release of projects through Integrity Music, beginning with The Creak's debut artists, Ben & Noelle Kilgore.
Based in Franklin, Tennesee, and co-owned by Brad King, Seth Talley and David Leonard (formerly of All Sons & Daughters), The Creak Music is also a full-service studio and production team whose credits include NEEDTOBREATHE, I Am They, Brandon Heath, JJ Heller, All Sons & Daughters and Ben & Noelle Kilgore.
The Creak trio has been working together for five years, including production for All Sons & Daughters' GRAMMY Award nominated Poets & Saints album and Jaci Velasquez's Dove Award winning Spanish language album, Confío, both released through Integrity. Leonard said he, King and Talley founded The Creak Music to help artists discover their voices by encouraging originality and pursuing vulnerability, adding that Integrity is a natural home for them.
The Creak and Integrity will release the Kilgores' debut single, "Grace, Grace," featuring guest vocals from Leonard, on August 24 followed by the single "Oh My Soul" on September 21. The Kilgores' debut EP, A Resting Place, releases in October with more details forthcoming.
Ben and Noelle Kilgore are worship leaders at Cornerstone Church in Tulsa, Oklahoma. The Kilgores' journey, including the heartbreak of infertility, joys of adoption and a miracle of healing for their child, has helped shape their ministry and their songs – a mix of modern psalms, hymns and laments. The couple approaches worship with honesty and a passion to see others experience God's peace and transformative presence.
"Our story plays out in our music," says Noelle. "We've had to trust God in ways that we never thought possible and we've discovered that it's okay to be desperate, it's okay to worship in the brokenness… because until you allow yourself to be real with God, you don't make room for Him to fully restore and heal."
##