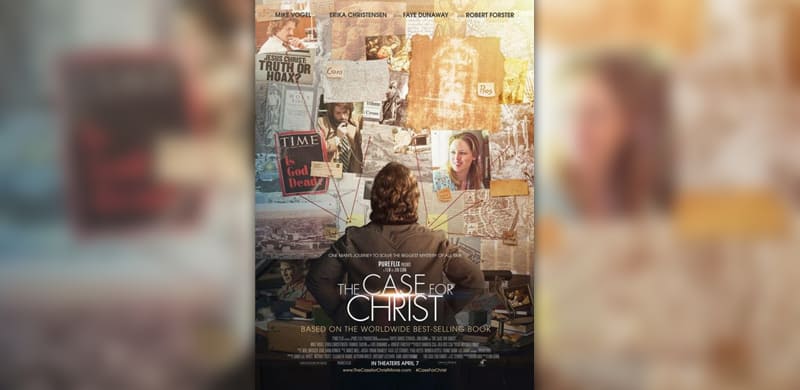 Experience The Powerful Feature The Case for Christ, One Night Before The National Theatrical Debut
Exclusive Live Fathom Event Set For April 6
SCOTTSDALE—Feb. 16, 2017— Lee Strobel's worldwide best-selling book, The Case for Christ, details his real-life journey from Atheism to Christianity. Now, on April 6, for one extraordinary night, the backstory of the skeptic and the facts fills movie theaters as The Case for Christ becomes an exclusive cinema event, featuring author Lee Strobel live on big screens nationwide one night before the film's wide release.
The Case for Christ Live Event, premiering the theatrical release of Strobel's story, will showcase a Q&A after the film with Strobel and his wife, Leslie, as well as other special guests on Thursday, April 6, live at 8 p.m. ET, 7 p.m. CT, 6 p.m. MT and tape-delayed to 8 p.m. PT, from Fathom Events and Pure Flix.
Tickets for this one-night event are available online at www.FathomEvents.com. For a complete list of theater locations, visit the Fathom Events website (theaters and participants are subject to change). In addition to seeing the film and participating in the live Q&A, ticket purchasers will also receive a free download of the first two chapters of The Case for Christ book.
"The Case for Christ has impacted the lives of numerous people around the world," Fathom Events CEO John Rubey said. "This re-telling of Strobel's journey of faith brings to life a story that has become hugely influential in the world of Christian apologetics today, and we are thrilled to be a part of its cinematic debut."
"We believe Lee and Leslie Strobel's real-life story that led him to write The Case for Christ makes for a compelling movie," said Michael Scott, CEO, and Co-Founder of Pure Flix and a producer of the film. "What a privilege it will be to see them live on movie screens talking about their experiences to a nationwide audience."
Following the Fathom event, The Case for Christ will release nationwide on April 7. The film stars Mike Vogel (The Help), Erika Christensen (Parenthood), Academy AwardÆ winner Faye Dunaway (Bonnie and Clyde, Chinatown), Academy AwardÆ nominee Robert Forster (Jackie Brown), L. Scott Caldwell (Lost) and Frankie Faison (The Wire).
Jonathan M. Gunn (Do You Believe?) directs The Case for Christ, written by Brian Bird, (When Calls the Heart, Touched by An Angel) and based on Strobel's book.
A hard-driving journalist, Lee Strobel was exactly where he expected to be at work: on top. His award-winning investigative reporting recently earned him a promotion to legal editor at the Chicago Tribune. But things weren't going nearly as well at home where his wife Leslie's newfound faith in Christ went against everything Lee believed—or didn't believe—as an avowed atheist.
Utilizing his journalistic and legal training, Lee begins a quest to debunk the claims of Christianity in order to save his crumbling marriage. Chasing down the biggest story of his career, Lee comes face-to-face with unexpected results that could change everything he knows to be true.
Based on Lee Strobel's award-winning best-selling book and starring Mike Vogel, Erika Christensen, Faye Dunaway and Robert Forster, The Case for Christ opens in theaters April 7. It's an ideal Easter-season movie for anyone who has ever pondered the existence of God … and what role He could play in their lives. For more information about the movie visit www.thecaseforchristmovie.com.
Watch the all-new The Case for Christ trailer below: