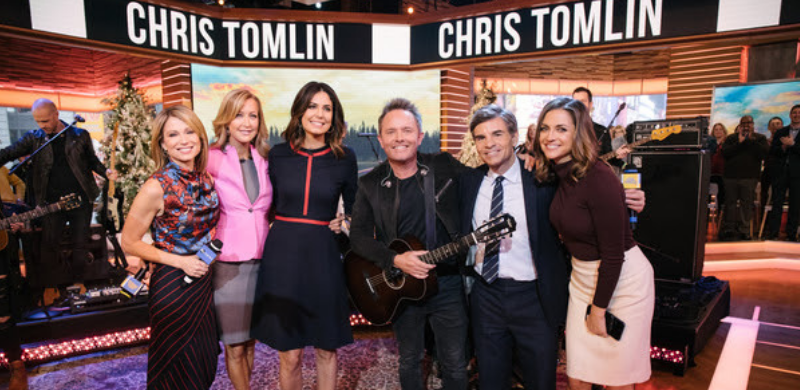 Chris Tomlin Wraps 2018 Christmas Tour
Concludes Record-Breaking Year with Performance on Good Morning America
Nashville, TN (December 17, 2018) – Grammy® winner Chris Tomlin wrapped his 12-city Christmas Tour, Chris Tomlin Christmas: Christmas Songs of Worship, at the Beacon Theatre in New York City last night after a run of sold-out shows. This morning he capped off an amazing year with a performance on Good Morning America.
2018 was a record-year for the award-winning Christian artist. He began the year with his second annual "Good Friday Nashville" concert at Bridgestone Arena, gathered 175,000 in six-weeks during his spring concert tour, launched an imprint record label Bowyer & Bow, headlined a sold-out Canadian tour in September and was recognized as the first Christian artist to reach the Billion streams threshold on PANDORA and was presented with their BILLIONAIRE award.
In October, Chris released his 12th studio album Holy Roar, a companion book Holy Roar: 7 Words That Will Change the Way You Worship, the Holy Roar Podcast and announced a 2019 Holy Roar Tour that will launch in March. Also in 2019 Chris will return to Los Angeles to become one of the first Christian artists to headline the iconic Hollywood Bowl and on July 29 & 30 he will play back-to-back nights at Red Rocks Amphitheatre for a history-making second time.
More on Chris' Holy Roar album HERE
##