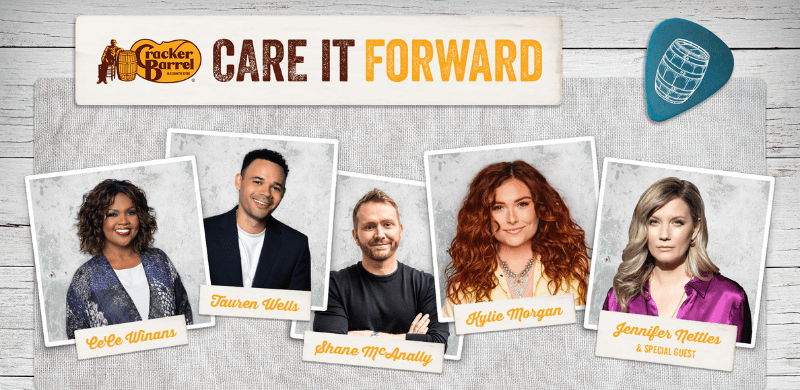 LEBANON, Tenn., June 22, 2021 /PRNewswire/ — Cracker Barrel Old Country Store® today launches its new Care It Forward initiative to amplify care and connection as the country emerges from a year of social isolation. Rooted in the company's history of caring for employees and guests like family, the effort aims to both demonstrate and inspire acts of care.
Cracker Barrel will lead by example with both small and large acts of care, ranging from in-store surprises for guests throughout the summer to a special musical content series featuring pairings of musical artists from diverse backgrounds, genres and viewpoints. Cracker Barrel has paired GRAMMY Award-winning musicians and songwriters Shane McAnally, Jennifer Nettles and CeCe Winans with aspiring artists to help coach, mentor and support them in the next steps of their careers after a year where nearly two-thirds of artists and creative workers surveyed by Americans for the Arts reported being fully unemployed because of COVID-19. Cracker Barrel is encouraging fans to use #CareItForward on social media to share their own acts of care and keep the positive momentum going.
"As we emerge from a season unlike any we've ever experienced as a country, it's important to come together and demonstrate care – not only through conversations but also through actions," Cracker Barrel Senior Vice President and Chief Marketing Officer Jennifer Tate said. "Care is not a new concept at Cracker Barrel; we like to think of care as our secret ingredient and it has now become our rallying cry. At Cracker Barrel, we believe inspiring care can start by simply inviting a diverse range of people to participate, and you will see that in action with the launch of our Care It Forward initiative."
MUSICIANS MENTOR RISING STARS
The hardship of 2020 has left many musicians questioning if they will be able to continue chasing their dreams – with #CareItForward, Cracker Barrel is facilitating transformative moments of genuine care for several musicians, and ideally inspiring others.
Cracker Barrel is proud to partner with McAnally, Nettles and Winans to share stories of how their careers benefitted from someone making an effort to #CareItForward on their behalf, and to give these artists and songwriters the opportunity to do the same by mentoring up-and-coming musicians. As part of Cracker Barrel's ongoing commitment to creating inclusive content, renowned director and producer Whitney Clinkscales directed the #CareItForward series, which features the following pairings:
Shane McAnally and Kylie Morgan
Jennifer Nettles and Special Guest
CeCe Winans and Tauren Wells
These artists will come together for engaging conversations touching on their struggles and triumphs in the music business, which will be highlighted in a compelling content series available at crackerbarrel.com/careitforward and via Cracker Barrel social channels. The first episode in the series, featuring GRAMMY Award-winning Winans and up-and-comer Wells, honors Black Music Appreciation Month and will be available Thursday, June 24, on Facebook, Instagram TV and YouTube. Winans and Wells cover Bill Wither's "Lean on Me." Additional content in the series will be released throughout the summer.
##