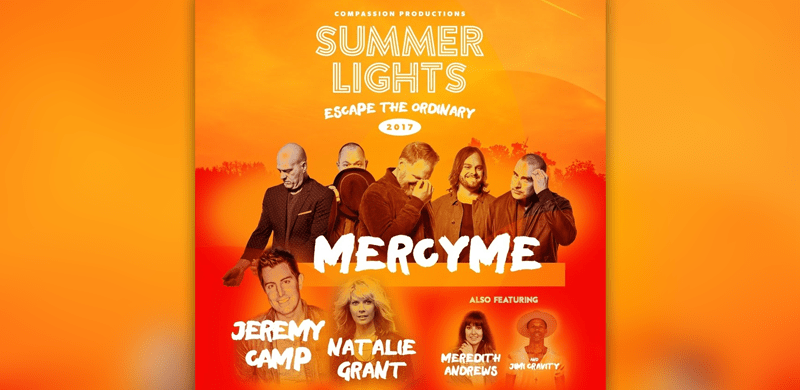 First Annual Summer Concert Series Presented by Compassion Productions Headed to Eight Major U.S. Markets in July
NASHVILLE, Tenn. – March 30, 2017 – Compassion Productions has announced its first annual summer concert series, Summer Lights 2017, featuring Grammy-nominated headliners MercyMe, along with fellow Grammy nominees Jeremy Camp and Natalie Grant. The summer tour, which also features worship artist Meredith Andrews and newcomer Jimi Cravity, is slated to hit eight major U.S. markets in the month of July including Kansas City, Indianapolis, Detroit, Baltimore, Charlotte and Raleigh before wrapping up in Pittsburgh on July 16.
"Touring is a huge part of our lives, and anytime you can tour with dear friends, life is good," says MercyMe frontman Bart Millard. "We are so excited to be partnering with Compassion on Summer Lights, and to be on the road with our pals Jeremy Camp, Natalie Grant, Meredith Andrews and Jimi Cravity. Good times will be had by all!"
"Compassion International is excited to launch our newest event, Summer Lights," adds Compassion Productions Director of Marketing and Promotions Chris Farnsworth. "Part of our goal with this summer concert series is to help those who attend 'escape the ordinary' — the day-to-day whirlwind of life — and connect to God in a deep and meaningful way through their favorite artists and music. We couldn't have asked for a better lineup with artists like MercyMe, Jeremy Camp, Natalie Grant, Meredith Andrews and Jimi Cravity, and we are thrilled to have them on board for what we hope will be the first of many Summer Lights events to come."
Tickets for most Summer Lights events are on sale Friday, March 31, at 10 a.m. local time. For details and ticket links, visit www.SummerLightsTour.com.
Compassion Productions is a division of Compassion International (www.compassion.com), a Christian child development organization that works to release children from poverty in Jesus' name. Compassion revolutionized the fight against global poverty by working exclusively with the Church to lift children out of spiritual, economic, social and physical poverty. Compassion partners with more than 7,000 churches in 26 countries to deliver its holistic child development program to over 1.9 million babies, children and young adults. It is the only child sponsorship program to be validated through independent, empirical research.
SUMMER LIGHTS 2017
Dates, markets and venues subject to change without notice.
July 6 – TBA
July 7 – Kansas City, KS – Providence Medical Center Amphitheater
July 8 – Indianapolis, IN – Farm Bureau Insurance Lawn at White River State Park
July 9 – Detroit, MI – Meadow Brook Amphitheater
July 13 – Baltimore, MD – Merriweather Post Pavilion
July 14 – Charlotte, NC – Charlotte Metro Credit Union Amphitheater
July 15 – Raleigh, NC – Red Hat Amphitheater
July 16 – Pittsburgh, PA – Key Bank Pavilion
ABOUT MERCYME
Since their debut in 2001, GRAMMY®-nominated, multiple American Music Award and Dove Award winners MercyMe have sold more than nine million units in CD, single and DVD sales, garnered 27 No. 1 multi-format Christian radio singles and four consecutive mainstream radio hits with "I Can Only Imagine," (No. 4 AC/Top 25 on Top 40/Hot AC), "Here With Me" (No. 4 AC), "Homesick" (Top 10 AC) and "So Long Self." Their radio success has continued with recent singles "Flawless" (No. 1 for 15 weeks) and "Greater" (No. 1 for 16 weeks), landing them the Top Christian Airplay Artist spot on Billboard's 2015 Year End charts. MercyMe made history in 2014 as "I Can Only Imagine" surpassed two million digital downloads, making it the first song in Christian music to go platinum and double-platinum in the digital domain. In 2009, Billboard named MercyMe's "Word Of God Speak" the No. 1 Song of The Decade and the group the No. 1 Artist of the Decade in both the Christian Songs and Christian AC Songs categories, recognizing them as one of the industry's most notable talents. They have sold out venues throughout the US and Canada, including Radio City Music Hall, and have appeared on the Macy's Thanksgiving Day Parade, The Today Show, CBS This Morning, The Tonight Show with Jay Leno, FOX New Channel's FOX & Friends, CNN, ABC News and in the pages of Entertainment Weekly, The New York Times, USA Today and more. Their latest project MercyMe, It's Christmas! (2015) debuted at No. 1 on Billboard's Holiday Albums chart and became an instant Christmas classic. MercyMe's eighth studio album, Welcome To The New, garnered two GRAMMY® nods, four radio hits and continues to be a top selling title. The band's newest album, LIFER, releases Friday, March 31. For more information, visit www.mercyme.org.
ABOUT JEREMY CAMP
Capitol CMG artist Jeremy Camp has established himself with landmark accolades throughout his praised career. Camp has sold more than 4.5 million albums including four RIAA Gold-certified albums, a RIAA Multi-Platinum long-form video and a Gold-certified digital single ("There Will Be A Day"). At radio, Camp is recognized as a staple artist with 37 No. 1 radio hits across all formats spending more than 175 weeks at No. 1 at radio in his career. His awards and nominations comprise of a GRAMMY® nominated project, three American Music Award nominations, four ASCAP Songwriter of the Year awards, an ASCAP Song of the Year award and five GMA Dove Awards including two wins for Male Vocalist of the Year and a New Artist of the Year award. Camp was named in Billboard's Christian Artist of the Decade chart (No. 2) as well as five songs listed in the Top 50 Billboard Christian Songs of the Decade. Adding author to his name, Camp penned his first book and autobiography "I Still Believe" in 2013 (Tyndale). In 2013, Camp founded Speaking Louder Ministries, which provides free crusade-style events and comes alongside local churches or missionaries in the countries where the Gospel needs to be heard. Locations of Speaking Louder Ministries' trips so far include: Ukraine, Japan, Guatemala and Kyrgyzstan. His latest, I Will Follow (2015) is available now. For more information, visit www.JeremyCamp.com.
ABOUT NATALIE GRANT
Six-time Grammy nominated Natalie Grant is known for her powerful and soaring vocals, heart-gripping lyrics and passionate performances, and has remained one of the top-selling Christian & Gospel artists since her 2005 breakout RIAA Gold certified album, Awaken. She has since gone on to have over 3.5 million in career sales. The Gospel Music Association has named her Female Vocalist of the Year five times and she has had multiple No. 1s on the Billboard chart, including the current hit, "King of the World." Beyond her music career, Natalie has been an outspoken advocate for victims of human trafficking since 2005. She co-founded Hope for Justice International, which identifies and rescues victims of trafficking and then provides them with complete restorative care. The organization now has six offices spanning four countries and three continents. Though she is a Seattle native, Natalie makes her home in Nashville with her husband, producer/songwriter Bernie Herms, and their three children: twins Grace and Bella, and their youngest, Sadie. For more information, visit www.NatalieGrant.com.
ABOUT MEREDITH ANDREWS
Word Worship recording artist Meredith Andrews is passionate about writing and leading songs that keep people's hearts and minds set on Jesus. Over the course of her three Word Worship albums, the Dove Award-winning artist has been using her musical gifts, love for God, and her huge heart for His people – to teach and remind us all about the enormity of our awesome and loving Savior. Andrews focuses on creating music that lifts the body of Christ to a closer relationship with the Lord. On a regular basis, Andrews leads worship at major women's and worship leader conferences across the U.S., and has toured with Matt Maher, Natalie Grant, Big Daddy Weave, Vertical Church, Phil Wickham, and Michael W. Smith, among others. Andrews is married to Jacob and has three children: Maverick, Remy and Frankie. For more information, please visit MeredithAndrews.com.
ABOUT JIMI CRAVITY
In his early twenties, Jimi Cravity signed his first publishing deal, with Bu Vision/Universal Music Publishing Group. Soon thereafter, his music made its way into the hands of artists like Ludacris and Usher. It was when he created his own project, a self-titled EP, that he began to solidify his own identity as an artist. The EP was followed by a second project after catching the attention of several music industry heavy-hitters, including acclaimed producer, Sham, whose credits include Rihanna, Kanye West and JayZ, among others. Cravity had found a home at Passion City Church in Atlanta, pastored by Louie and Shelley Giglio. Inspired by their leadership, he served on the production team — hauling gear, cables and equipment — with no mention of his songwriting abilities or artist career. Eventually he began to lead worship there and has since been featured at Passion Conferences, the annual student gatherings led by Louie and Shelley Giglio. Jimi's single, "Surrender," made its way onto Passion's 2016 worship album, Salvation's Tide is Rising. In time, he was signed to Capitol Christian Music Group joint venture label sixstepsrecords, joining label mates Crowder, Matt Redman, and Passion. His debut EP from sixstepsrecords, Heaven, is available now. For more information, visit www.jimicravity.com.
##