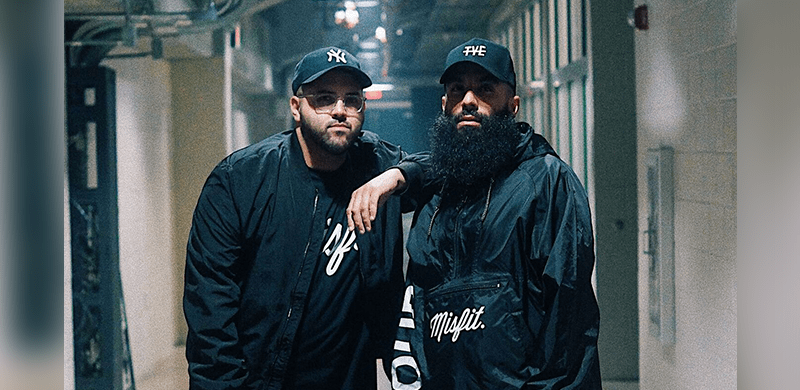 Ticket link information here for the Into The Night
NASHVILLE, Tenn. (April 6, 2018) – Capitol CMG recording artist Social Club Misfits kicked off their Into The Night Tour at Rocketown in downtown Nashville, Tennessee this week. The hip-hop duo will continue their 2018 tour through the end of April with stops in Pittsburgh, Chicago, Charlotte, Orlando and more. Tickets are currently available here.
The duo, comprised of Marty and Fern, released their album Into The Night on Feb. 9, 2018. The genre hopping, high-energy album featuring 13 new tracks including three songs recently featured on ESPN. The duo has already had a busy 2018, as they just wrapped up The Roadshow tour with For King and Country, Natalie Grant, Matthew West, and Zach Williams.
"War Cry feat. Tauren Wells," Social Club's new radio release, is the group's fastest rising single to date, reaching Top 15 on Hot AC in less than 10 weeks.
Marty and Fern are excited to hit the road with new music. They say, "No matter where our listeners are in life, we want them to search for the silver linings. We're excited to bring this record to them in person throughout April."
Into The Night Tour dates:
April 4 Nashville, TN Rocketown
April 5 Pittsburgh, PA Rex Theater
April 6 Lancaster, PA Chameleon Club
April 7 Elizabeth, NJ The Liberty Center
April 8 Clinton, CT Cornerstone Church
April 9 Baltimore, MD Baltimore Sound Stage
April 13 Cincinnati, OH The Underground
April 14 Oakland City, IN Oakland City University
April 15 Pontiac, MI The Crofoot
April 17 Chicago, IL New Life Covenant
April 18 Columbus, OH The Basement
April 19 Charlotte, NC The Underground
April 20 Durham, NC World Overcomers Christian Church
April 22 Jacksonville, FL Murray Hill Theatre
April 24 Orlando, FL Soundbar
April 25 Atlanta, GA Vinyl
About Social Club Misfits
People often talk about the future of hip-hop music like it isn't right now. As if the future were some far off paint splotch occupying our collective imagination. On the contrary, the future is now, and some aren't afraid to take it where it's going. Enter Social Club Misfits, the Miami duo who's built a cult following on the strength of their provocative oeuvre and singular, quick-witted approach. Comprised of Marty and Fern, Social Club is the after-effect of two distinctive personalities meshing to create an invigorating sound. The self-monikered "Misfits" are disruptors in every sense, challenging norms and bringing other misfits along for the ride. With a host of projects and EPs under their proverbial belt, including the Billboard charting full lengths The Midadventures, Misfits 2 and US, Social Club Misfits has made a sport of pushing boundaries and redefining the possibilities of what faith-based music can accomplish. From headlining sold out tours across the country to spawning imitators the world over, it's clear the duo has struck a chord with listeners from all walks of life. They have bypassed perceived gatekeepers in favor of carving their own lane and fueling their purpose. While some are content with moving wherever the current leads, Social Club Misfits has embraced their calling as leaders of a more intentional school of thought. The misfits are now. Their latest project, INTO THE NIGHT is available now!
##