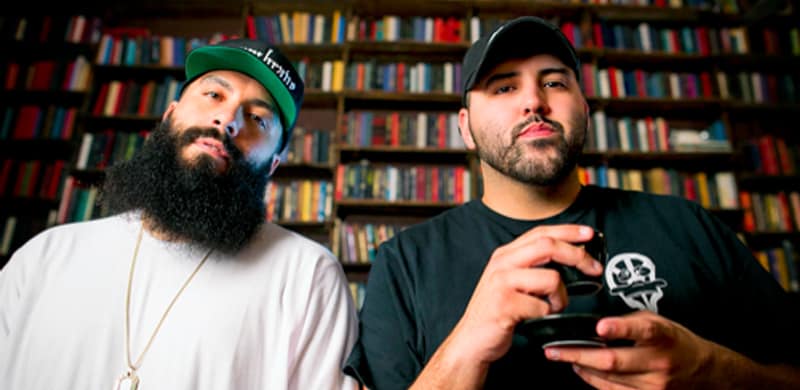 BREAKTHROUGH SINGLE "COURAGE" AVAILABLE FOR IMMEDIATE DOWNLOAD WITH EACH PRE-ORDER PURCHASE STARTING APRIL 29
SOUTHERN FLORIDA-BASED GROUP TO CO-HEADLINE
"THERAPY SESSIONS TOUR" WITH LABEL MATE NF THIS SPRING
Nashville, Tenn. (April 8, 2016)—Capitol Christian Records based out of Nashville, Tenn., has welcome hip hop duo, Social Club Misfits to its roster. Together, they will unleash The Misfit Generation EP available nationwide on May 6. Fans can pre-order the album starting April 29, and instantly receive a free download on Social Club Misfits' breakthrough single "Courage."
"We are extremely excited about our new partnership with Capitol CMG," says Social Club Misfits. "It's an honor to get to work with such a great team who strongly supports our music and overall vision. Our new EP The Misfit Generation will maintain the Social Club [Misfits] sound while also broadening our scope to engage the culture at large."
Made up of Martin ("Marty") and Fernando ("FERN") from South Florida, the Social Club Misfits, formerly known as Social Club, are two distinctive personalities meshing to create an invigorating sound.
"We are honored to welcome Social Club Misfits to the Capitol CMG family of artists," shares President of Capitol Christian Music Group Peter York. "They bring a unique energy, purpose and creative offering to our valued roster. They are effectively reaching their audience and making an impact in lives across the country with great music, a compelling show and a message of hope. I'm grateful to work with them and for what they represent in the world of hip hop."
With the help of producers Elvin "Wit" Shanhbazian, Chris Batson and Raymond Castro, Social Club Misfits created a dynamic, energetic five-track EP with the hope to inspire their generation to change what modern Christianity looks like. They believe that while the message of Jesus hasn't changed, it is the method that looks different.
"We are encouraging 'misfits' to be who Gods called them to be, not who the world says they should be," Social Club Misfits explains. "We sing different, we dress different and were not embarrassed of the God we serve. We are the misfit generation."
Leading up to the release of the EP, the duo headlined The Misfit Generation Tour and is now preparing to embark on the Therapy Sessions Tour, where they will co-headline with label mate NF. The hip hop acts will entertain thousands in major cities across the U.S. starting May 4th. The tour will kick off in Chicago and conclude in Memphis on May 22nd. For a full list of tour dates and cities, visit here.
Over the course of their career, the twosome have garnered over 11 million audio/video streams, over 1.6 million YouTube Channel Views (over 35,000 albums sold and their previous album US peaked at No. 6 on Billboard's Rap Albums Chart, which was the follow up to their debut album Misfits 2 that hit No. 9 on the same chart.
For more information on Social Club Misfits please visit:
Website
Facebook
Twitter: @SocialClubMSFTS
Instagram: @socialclubmisfits
##
Media Contact:
Sundari PR
Christina Garvin
D: 805.229. 1612
Christina@sundaripr.com