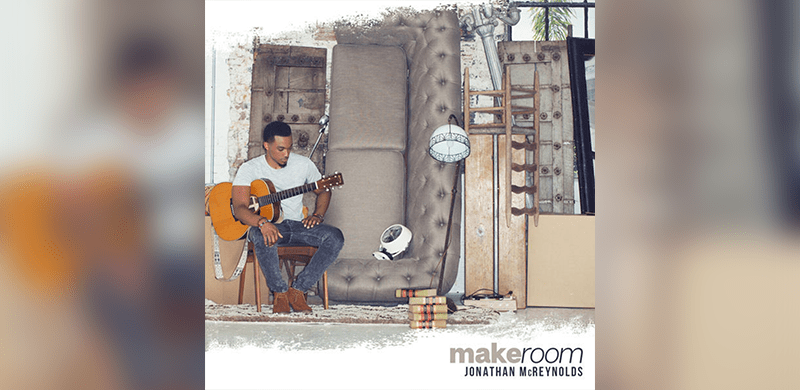 New York, NY, February 9 2018: Dove Award-winning and Grammy and Stellar award-nominated gospel singer-songwriter Jonathan McReynolds has announced the release of his first ever live LP, Make Room, his third full album and the fourth overall release for the 28-year-old musician. The guitarist and singer also holds a Masters in theology from Moody Theological Seminary and is currently an adjunct member of the Columbia College faculty. His music has been cheered on by music icons from Stevie Wonder, Nicki Minaj, and Tori Kelly to gospel giants like CeCe Winans, Yolanda Adams, and Kirk Franklin, who dubbed McReynolds "the future of gospel music."
The highly-anticipated follow-up to Jonathan's 2015 Life Music: Stage Two, (which spent four weeks at #1 on the Billboard gospel chart) was recorded entirely live this past May in Chicago, IL and will be released on March 9th, 2018 on Entertainment One. Additionaly, McReynolds will embark on a promotional tour from February 25th to March 18th, hitting major outlets such as New York City, Nashville, Chicago, DC, and Philadelphia. See below for entire list of markets, final dates to follow.
Ahead of the album's release, Jonathan is sharing a music video for lead single "I'm Not Lucky, I'm Loved," which was first released in September and debuted at #1 on Billboard's digital gospel songs chart. The song, which is firmly rooted in gospel tradition and priority, wears its mainstream pop appeal well as Jonathan's incredible voice performs acrobatically around his trademark guitar-gospel style. The song bubbles and shimmers through intimate and joyful dynamics, even breaking into a white-hot guitar solo near the end. The video, coming a few months after the single's audio release, showcases how quickly beloved the song has become by featuring homemade videos of Jonathan's fans singing and dancing along to the new single.
Check out the video here!
The album's second single, "Cycles (feat. DOE)" gives fans the first taste of the album's live atmosphere, opening with Jonathan's signature acoustic picking, unfolding patiently into a passionate duet. The song serves as a great showcase for the way the energy of Jonathan's live show is not just an incidental quirk of the album's production but rather represents the essential presentation of this set of gospel songs, as the audience responds and builds off of the words and sentiments Jonathan presents in the lyrics, as his vocals move effortlessly between playful hip-hop influenced wordplay and sections of intense, impassioned vocal effort.
Check out "Cycles (feat. DOE)" here.
Both songs, though unfolding into very different energies and showcasing very different strengths for the versatile Jonathan McReynolds, also share one important quality that is central to Jonathan's growing appeal and respect: his ability to elicit immediate emotional responses from anyone whose ear he is able to catch. Whether in the audible audience responses in the live track "Cycles," or in the joyful faces of the fans dancing and singing in the "Lucky" video, it becomes clear that just as Jonathan says in "Lucky," his rising star, in the gospel world and in the mainstream world, has everything to do with the way Jonathan is so authentically tapped into the emotional reality of his work and his beliefs. When Jonathan says "I'm not lucky, I'm loved," he is referring to God's love but it's easy to see in "Make Room" that God is not the only one who feels that way.
TOUR MARKETS:
Indianapolis
Nashville
Atlanta
Houston
New York City
Philadelphia
Chicago
Dallas
Baltimore
Richmond
D.C.
##