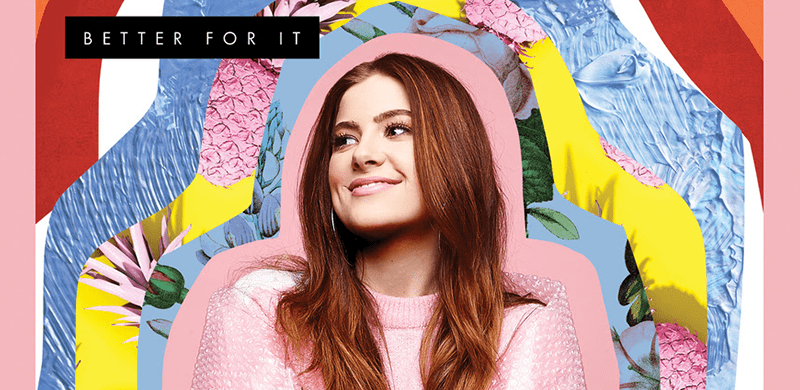 18 Year-Old Pop Singer Songwriter To Perform
At This Weekend's K-LOVE Fan Awards
Nashville, Tenn. (May 25, 2018) – "Better For It," the newest catchy single from 18 year-old Riley Clemmons is available today. Alongside the drop is a video of the empowering pop tune which was filmed with one continuous take in Clemmons' hometown of Nashville, Tenn. In excitement for the track, SiriusXM has already started to spin the song upon its debut today.
With over 12 million global streams and a highly watched music video exclusively premiered by SiriusXM, "Broken Prayers" skyrocketed Clemmons' introduction into the music scene. The song received 38 adds out of the box on radio impact date, with early adds from K-LOVE, AIR1 and SiriusXM. The infectious single was supported by 72+ radio stations, scoring a multi-week top 5 reign at Hot AC radio and a top 15 placement on the National Christian Audience chart. Her debut single also found traction with Apple Music playlists such as Future Hits, Pure Pop, Charm, and Breaking Pop placing her alongside Charlie Puth, Kelly Clarkson, Niall Horan and more.
Clemmons will perform "Broken Prayers" at the 2018 K-LOVE Fan Awards taking place on Sun., May 27 at the Grand Ole Opry. Marking the show's first appearance on television, TBN will broadcast the 2018 K-LOVE Fan Awards on Thurs., May 31 at 8 p.m. ET.
Clemmons will join friends Danny Gokey and Tauren Wells for "The Hope Encounter" Tour this Sept. marking dates coast to coast from Sept. through Nov. For more information, visit www.RileyClemmons.com.
To listen to "Better For It," click here.
About Riley Clemmons
Riley Clemmons is an 18-year-old, Nashville-based singer, songwriter signed to Capitol Christian Music Group. Her debut single "Broken Prayers" skyrocketed at radio upon its release in early 2018. The music video earned over a million views on YouTube in less than two months with Clemmons' global streams currently amassing over 12 million. Kindness is interwoven throughout Clemmons' music and message. The Nashville native began writing at the age of 13 while maintaining the full-time demands of being a student. Fast forward five years, you find a seasoned 18 year-old songstress who has collaborated with some of the most talked about writers on Music Row like Emily Weisband, Josh Kerr and more.
##