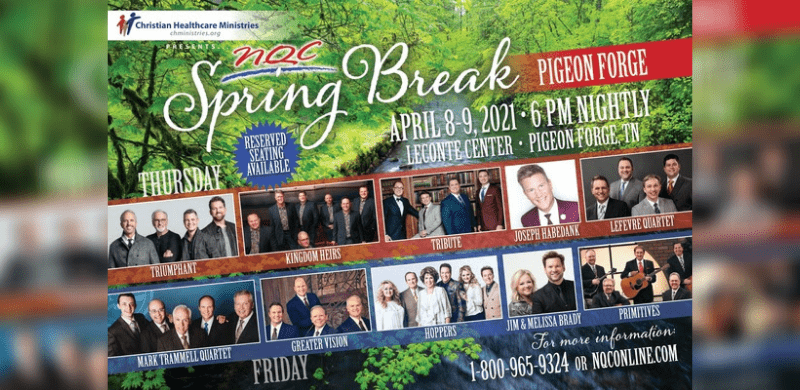 PIGEON FORGE, Tenn. (March 25, 2020) – For the first in the history of the event, NQC SPRING BREAK will be held at the LeConte Center in Pigeon Forge, TN. The NQC Board of Directors made the decision to move the event last year.
The two-night annual event – taking place on April 8 & 9, 2021 – will now implement reserved seating and there will be ample room for social distancing if attendees choose to do so. Additionally, the event will be available for live streaming.
"We are excited to be moving the NQC Spring Break event to the LeConte Center in Pigeon Forge, TN," states NQC Executive Vice President, Clarke Beasley. "We feel this move and the offering of reserved seats to our attendees will give this event the opportunity to become one of Gospel Music's premier Spring events."
An all-star lineup is scheduled to take the stage for the two-night event: Trumphant, Kingdom Heirs, Tribute, Joseph Habedank, LeFevre Quartet, Mark Trammell Quartet, Greater Vision, Hoppers, Jim & Melissa Brady and Primitives.
For more information and reserved seat ticketing, please visit www.NQConline.com
ABOUT NQC:
NQC – the National Quartet Convention – was founded in 1957 by gospel music legend and former backup vocalist for Elvis Presley, J.D. Sumner who co-produced the event with James Blackwood. The annual convention was moved in later years to Nashville, TN and then to Louisville, KY where it was held for 20 years. NQC is currently held at the LeConte Center in Pigeon Forge, TN.