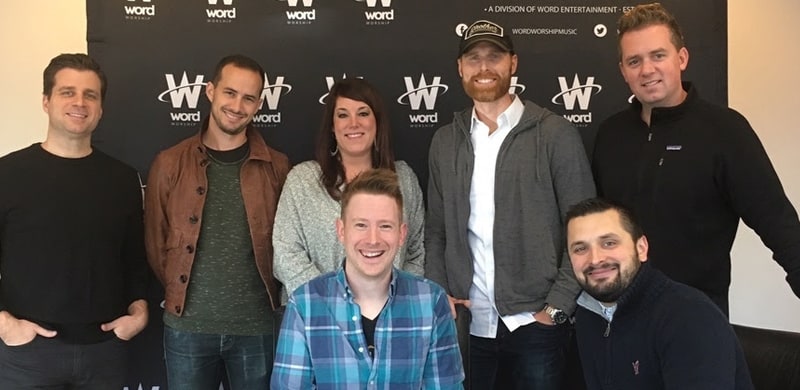 L-R, back: Rod Riley, Joel Timen, Janine Appleton, Trevor Mathiesen, Josh Bailey
L-R, front: Jonathan Lee, Jonathan Mason
12 December 2016 – Nashville, Tenn – It was announced today that Word Music Publishing has signed a worldwide exclusive songwriting agreement with worship leader and Dove-nominated songwriter Jonathan Lee.
Formerly with Brentwood-Benson Music Publishing and Centricity Publishing, Jonathan Lee's songs have been recorded by some of Christian music's most well known artists including for King & Country, Newsboys, Phillips, Craig & Dean, and Selah. Lee is a co-writer of "When The Stars Burn Down," a Dove nominated Worship Song of the Year and also the Billboard top 10 single "Proof of Your Love," recorded by two-time Grammy Award winning artist, for King & Country.
"It's been crucial to our team to make sure we are building a strong group of worship leaders that see the local church as the major leagues when it comes to how we partner together," says Jonathan Mason, Director of Word Worship Music. "Jonathan's love for the local church can not be denied and we believe new songs of worship will continue to rise through his continued ministry."
As part of this new partnership, Lee will write songs to lead and release through his own recordings as well as for other artists as a staff songwriter for Word Music Publishing.
About Jonathan Lee:
Jonathan Lee is a Dove Award-nominated songwriter and serves as a worship leader in his local church and at other events nationwide. He is passionate about writing music to equip, encourage and lead people into the presence of God. As a songwriter, Lee's credits include songs recorded by Newsboys, Aaron Shust, Laura Story, Travis Cottrell and many more. His most recent successes include "When The Stars Burn Down," recorded by Phillips, Craig & Dean and "Proof Of Your Love," recorded by two-time Grammy Award winning artist for King & Country.
About Word Worship Music:
Word Worship Music was created to directly serve churches around the world by helping believers unite in Gospel truths through song. Word Worship begins its new roster with Meredith Andrews and Zealand Worship and a stable of worship-focused songwriters under the Word Music Publishing umbrella. They'll build on the long history Word Entertainment has with worship music over the decades, from towering testament of faith "El Shaddai," by Amy Grant, to recent songs like "Open Up The Heavens" by Meredith Andrews and Francesca Battistelli's recording of "Holy Spirit". Nashville-based Word Worship Music is committed to helping God's church hear it's OWN song. Word Entertainment also is home to 25 Entertainment, WordPrint/Church Resources, Word Films and Word Label Group's Word Records and Fervent Records. For more information on the new Word Worship partnership, visit www.WordWorship.com.
##
Media Contact:
Merge PR | Stacie Vining & Lori Mahon
Stacie@MergePR.com | 615.260.4679
Lori@MergePR.com | 615.579.1266