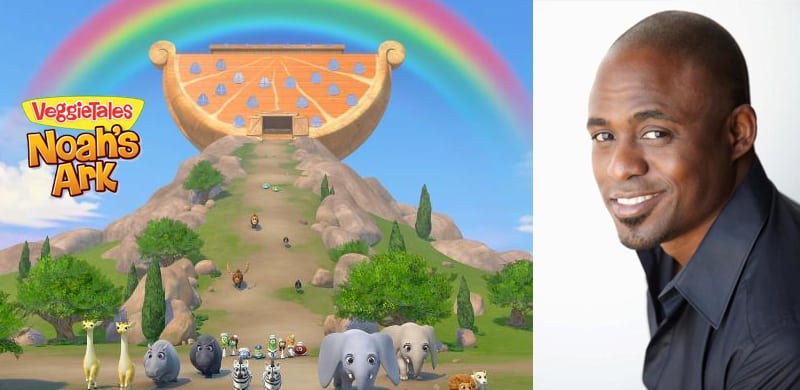 Just in Time for Easter Comes the Ark-Sized Adventure of a Brand-New VeggieTales Production Featuring Seven Original Songs, Available March 3 on DVD and Digital Download
GLENDALE, Calif., Feb. 3, 2015 /PRNewswire/ — Carrots meet cubits as VeggieTales builds an ark filled with fun, adventure and important lessons about trusting God in NOAH'S ARK, its first Bible-themed production in more than four years. Starring Wayne Brady and Jaci Velasquez, along with Larry the Cucumber, Bob the Tomato and a whole crew of Veggies, NOAH'S ARK will be available March 3 on DVD and digital download.
The Grammy® nominated and multi-Emmy® award-winning host of one of TV's most famous game shows, Let's Make a Deal, and star of Whose Line Is It Anyway brings to life Noah's son Shem, who first questions, then learns to embrace, his father's direction from God. Christian singer, actress and radio host Jaci Velasquez co-stars as Shem's wife, Sadie.
"Saying 'yes' to VeggieTales was a no-brainer – my daughter's a fan and I love the music and messages," says Brady, who performs seven original songs in NOAH'S ARK. "The best part is, Bob and Larry are down to earth and they never let the 'I'm a global Veggie superstar' thing go to their heads."
Adds Velasquez: "Every parent searches for entertainment that's both wholesome and imparts valuable life lessons, and with Noah's Ark, VeggieTales serves up a delicious dish on both counts. The story, the music and the visuals are perfect for the entire family."
In NOAH'S ARK, Shem and Sadie return home from their honeymoon to find that Noah (played by Pa Grape) has begun, at God's direction, to work on a massive ark, which his wife Naamah (played by Madame Blueberry) and sons Ham (played by Larry) and Japheth (played by Bob) are helping construct before the start of 40 days and 40 nights of rain.
But Shem doesn't understand Noah's unshakable faith in God, particularly when animals start arriving two-by-two – while the rain is nowhere to be seen. When the deluge does come, Shem begins to understand Noah's determination to preserve humanity's future … and the importance of trusting in God.
NOAH'S ARK also features a brand-new "Silly Songs With Larry" segment, in which Larry dons a safari outfit as he goes on a quest for a gigantic, golden egg.
Less than three weeks after the DVD and digital download release of NOAH'S ARK, the VeggieTales excitement continues when five all-new episodes of VeggieTales In The House, the hit animated series, debut exclusively on Netflix – bringing the total of VeggieTales In the House episodes to 15 as the series continues its first season.
To learn more about NOAH'S ARK, and to pre-order the DVD, visit the official VeggieTales website at www.veggietales.com, or call the toll-free VeggieTales Hotline at (844) 2-VEGGIE (U.S. callers only).
##
Media Credit:
DreamWorks Animation
PRNewswire