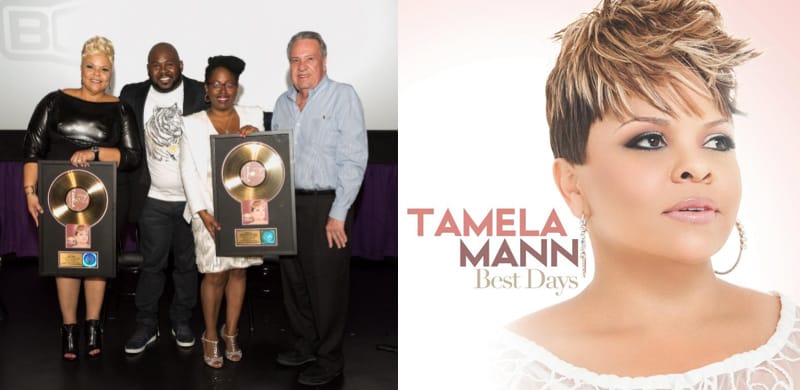 (Pictured: Tamela Mann, David Mann, Vicki Lataillade (CSD), Randy Davidson (CSD). Photo Credit: Earl Gibson III)
Tamela Takes Home Special Event CD of the Year Award at 30th Annual Stellar Gospel Music Awards
DALLAS (March 31, 2015) – Grammy Award® Nominee Tamela Mann's album 'Best Days' (CD/ Deluxe Edition) is certified gold by the Recording Industry Association of America (RIAA) for the achievement of selling more than 500,000 copies. Tillymann Music Group label head and Tamela's manager and husband, David Mann, presented Tamela with her RIAA Certified Gold plaque at a pre-screening of Bounce TV's 'Mann & Wife' during the Stellar Awards weekend in Las Vegas. A presentation was also made to Tillymann Music Group distribution partner Central South Distribution.
"God continues to bless me, my family and my music in 2015," said Tamela. "Learning 'Best Days' went Gold is a wonderful surprise in addition to kicking off a great weekend where we previewed our new show 'Mann & Wife' and co-hosted the Stellar Awards with my husband David, and our friend Rickey Smiley. I'm feeling overwhelmed with thankfulness, and to God be the glory."
'Best Days' includes the RIAA Certified Gold and No. 1 track "Take Me To The King," the No. 1 track "I Can Only Imagine," and the current chart-climbing, top ten hit "This Place." The album won Special Event CD of the Year at the 30th Annual Stellar Gospel Music Awards.
ABOUT TAMELA MANN
Tamela Mann is an accomplished NAACP Image Award winner, GRAMMY® Award nominee, BET Award winner, 7-time Stellar Gospel Music Award and two-time GMA Dove Award-winning singer, actress, songwriter, producer, and businesswoman. Starring as "Cora Simmons," the loving and churchgoing daughter of beloved Deacon Leroy Brown and the iconic Madea Simmons on the hit TBS comedy Tyler Perry's Meet The Browns, Tamela makes millions laugh every week while she enjoys a unique personal double blessing. Continuing the role she originated in Perry's 2004 play and 2008 film of the same name, the sassy, high spirited multi-talented singer and actress is able to work every day with David Mann, her husband who plays Leroy. Tamela's highly successful, Dove Award-winning CD "The Master Plan" remained at the top of the Gospel sales chart for almost a year, and in 2010, Tamela released "The Master Plan Deluxe Edition" which contained not only all the songs from the best-seller, but David's CD, "Mr. Brown's Good Ol' Time Church," and a full bonus DVD of behind the scenes footage and music videos. Tamela's two-time GMA Dove Award and seven-time Stellar Gospel Music Award-winning CD "Best Days" debuted in 2012 at No. 1 on several music sales charts and includes the No. 1 Gold-selling single "Take Me To The King," which earned Tamela her first GRAMMY ® Award nomination for Best Gospel/Contemporary Christian Music Performance. Both the CD and single remained at No. 1 for a record number of weeks; the CD charted at the top for 15 weeks and the single for more than 25 weeks. Her current single "This Place" from "Best Days" is currently climbing the radio chart. Tamela and David's new 2015 television properties include It's A Mann's World (BET) and Mann & Wife (Bounce).
For more information about Tamela Mann, visit http://www.tillymannmusic.com.
##
Media Contact:
Chelsey Dickson
(615) 331-8538
TKO Marketing & PR