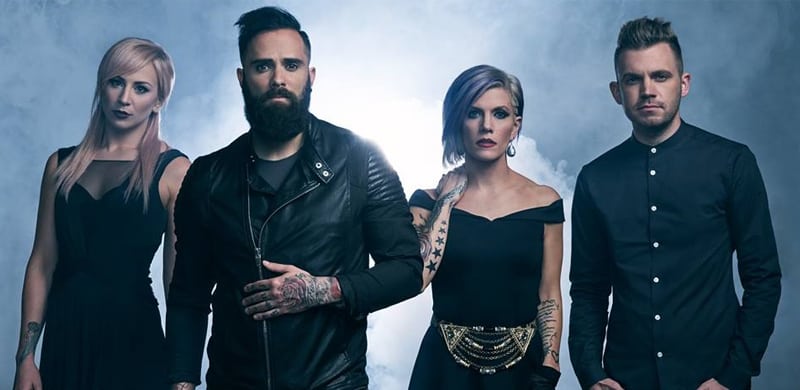 "Stars" single hits No. 1
Skillet's "Feel Invincible" to open ACC football games throughout fall season
Nashville, Tenn. (September 8, 2016) – After a popular sit-down with the GRAMMY® nominated rockers, People.com is exclusively premiering the new music video for "Stars" from the band's chart-topping album UNLEASHED (Aug. 5). The announcement comes shortly after the hit single reached No. 1 on the BDS Hot AC/CHR chart. "Stars" follows in the footsteps of the band's chart-climbing Active Rock and No. 1 Christian Rock track "Feel Invincible" whose music video has gained over ten million views on YouTube to-date.
After the successful release of UNLEASHED, Skillet will have quite a presence throughout the fall sports season. "Feel Invincible" will open all ACC Network telecasts of ACC football, home of teams like Clemson, Florida State, Miami, Duke and more. An impressive lineup for the single, "Feel Invincible" is also scheduled to be featured on ESPN promos for the coming season of NFL Monday Night Football, Major League Baseball and ESPN's 2016 NHL World Cup of Hockey programming. WWE's Battleground, TBS' E-League, Rock Band 4 and Nickelodeon's 2016 Kid Choice Sports Awards have already used the powerful track.
With tickets already selling out, Skillet will make their way across the U.S. and internationally for "The UNLEASHED Tour," kicking off September 22 in Clive, IA. For more information on "The UNLEASHED Tour," visit www.skillet.com/tour.
About Skillet
Skillet has cemented its place as one of the 21st century's most successful rock bands. Selling more than 11 million units worldwide, the Wisconsin quartet have received two GRAMMY® Award nominations and won a Billboard Music Award for the platinum-certified Awake. Their double-platinum single "Monster" is "the eighth most-streamed rock song of 2015" with a total of 64 million plays (and counting) on Spotify and would earn the distinction of becoming "the best-selling digital single in the history of Christian Music." 2013's Rise bowed at #4 on the Billboard Top 200 upon release, received resounding and eclectic acclaim from the likes of USA Today, New York Times, Revolver, Loudwire, etc. and was recently certified gold by the RIAA. Their latest, Unleashed (Aug. 5, 2016), debuted at #3 on the Billboard Top 200 Albums Chart alongside #1 on the Top Christian Albums Chart, #2 on the Billboard Top Albums Chart, #2 on the Digital Albums Chart and #3 on the Physical Albums Chart.
Get Connected With Skillet
www.skillet.com
Twitter
Facebook
Instagram
YouTube
##
Media Contact:
Velvet Kelm, Courtney Hyder & Brooke Huppenthal
velvet@themcollective.com
courtney@themcollective.com
brooke@themcollective.com
615-591-7989
www.themcollective.com