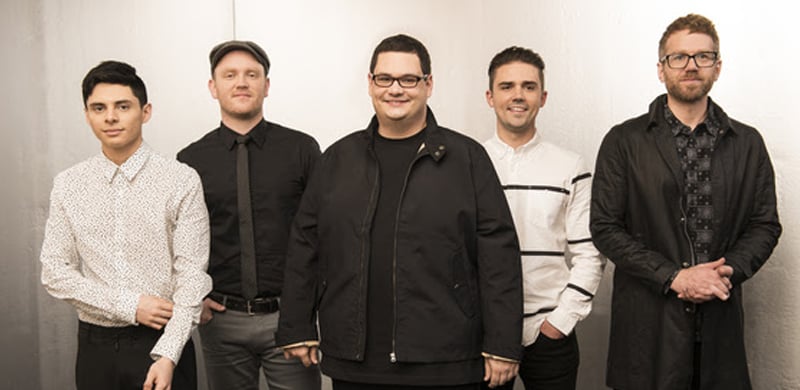 The Popular Tour Continues As A Unique Immersive Concert Experience;
Band Asks Their Fans To Help Choose Tour Dates
Nashville, Tenn. – (October 26, 2016) – Sidewalk Prophets will be taking their hit music, energetic live performance, and thought-provoking creativity on the road this winter and spring as they announce the 2017 leg of "The Prodigal Tour." The tour is in partnership with The Mocha Club, a non-profit that the band has passionately supported since visiting the Democratic Republic Of The Congo in 2011 and seeing the organization's work first-hand in caring for needs of the area.
This second leg of "The Prodigal Tour" is announced on the heels of another successful year for the band as their latest album, Something Different, has garnered rave reviews from both fans and critics alike. The album has already notched two radio hits, "Prodigal," and "To Live Is Christ," and their third single, "Impossible," is at Christian radio now.
"The Prodigal Tour" sets itself apart from other tours as the band has created what they are calling a "immersive concert experience." The centerpiece of this tour is Wander Creative's suspenseful yet powerful short film, "The Prodigal," which was written by Sidewalk Prophets co-founder Ben McDonald along with Matt Hadley.
This interactive experience tour also offers unique attention to detail. Audience members will see from the moment they walk in the venue that the entire building has been transformed to take them on a journey, weaving together scenes from the short film with the band's music. The night culminates in a powerful moment of prayer for the lost.
"The music, the effects, the message….it was so engaging you felt as though you were part of the production. This is a must see for everyone, you will enjoy every second, and wish it would have continued all night." – Robert Lawson (event attendee)
Not only is the band working hard to deliver a great experience on the tour but they also desire to deliver an affordable experience. Tickets for the tour are offered at different price levels:
$10 General Admission – your ticket to the show

$25 – Early Entry – gets you into the venue 30 minutes before general admission and gives fastpass to be the first in line to meet the band after the show

$100 – VIP After Show (limited to 20 tickets per show) – gets you everything with the Early Entry ticket along with joining the official aftershow party backstage with the band, which includes food, private hang time with the band and a special acoustic performance. VIP ticket holders will also receive a limited edition autographed tour poster and more!
The band doesn't just stop at a great experience with a great price – they are truly committed to their fans and are once again offering them the chance to submit their cities / local venues for a shot be selected as part of The Prodigal Tour. To submit your city, please visit www.ProdigalTour.com, submissions are due by Dec 1, 2016 at 12pm EST.
Dates for the tour will be released through a series of live casts hosted by the band starting December 15 at 8pm ET. More information can be found at www.ProdigalTour.com.
About Sidewalk Prophets:
Dove Award-winning Sidewalk Prophets are a band who strive diligently for excellence in all things. Formed on the campus of Anderson University and built around vocal powerhouse and pop culture nerd Dave Frey, the band has: sold over 500,000 albums, 1.5 million digital singles, been nominated for a Billboard Music Award, played over 2,000 shows translating to being in front of 2.5 million fans, garnered five number one singles and eight top five radio hits, received over 11 million YouTube views, and been nominated for four Dove Awards, winning one – all over the course of their three Fervent Records albums. Sidewalk Prophets are a band known for spending the majority of their time on the road where they are passionate about connecting with their audience on a personal level.
About Mocha Club:
Mocha Club is a community of over 36,000 people who believe in the power of everyday generosity to end extreme poverty in Africa. By giving up the cost of a few mochas a month, Mocha Club members, together, are creating real and sustainable change in nine countries through clean water, education, economic freedom, orphan care, and healthcare. For more information, please visit themochaclub.org.
Get Connected with Sidewalk Prophets by visiting:
SidewalkProphets.com
Twitter
Facebook
Instagram
##
Media Contact:
Stacie Vining, Merge PR
Stacie@MergePR.com