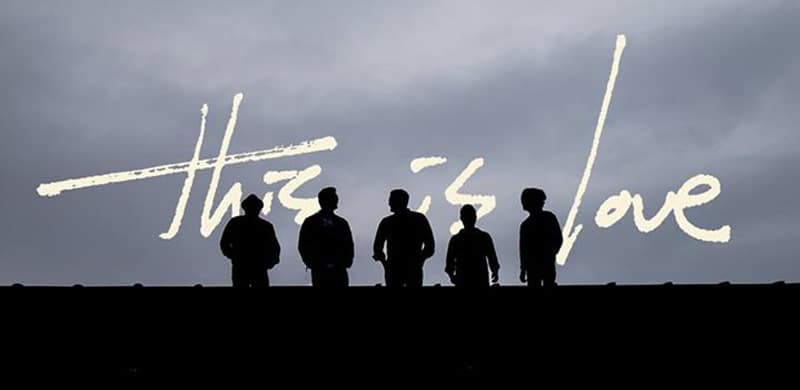 Dove Award-winning band, Sanctus Real, just announced Dustin Lolli as its new lead singer. Below is a note from the band announcing Dustin as well as brand new single "This is Love."
A Letter From Mark Graalman:
For more than half my life I have been on an incredible journey. I could have never guessed back in 1996 that I would get to go down such a crazy path due to the rather limited musical abilities of five guys from Toledo. How's the old saying go? God doesn't call the qualified, He qualifies the called.
Twenty years in and we now look back at over a million singles and roughly 800,000 full length records sold. A full time touring career since 2002 averaging over 100 shows a year. Seven GMA Dove Award nominations, (one of which we actually won), two GRAMMY AWARD nominations, eight #1 and sixteen top 10 radio singles… Pondering this makes me feel like 'Wow, did all that really happen?!' How amazing is this thing that God has done in our lives!
And then one day it all ends… At least, so I thought… And that was very hard at first. It still feels hard in certain moments, even on the otherside of it. But as we've said from stage for years, so now we must trust for ourselves, that Jesus is the great Redeemer who is making all things new! Sometimes it's things that in our eyes don't need to be made new. However God in His goodness will bring change to cause growth and new life to well up where things have maybe become stagnant. He loves us too much to let us stay where we are. Our spiritual growth is for our own good and for His glory.
Matt Hammitt is and forever will be one of my closet and dearest friends. He's been like a brother to me through the best and the worst of times. I've experienced so much in life with Matt by my side and I will certainly miss seeing him there. But God has brought about a big change… And I believe it is for all of our good.
As we welcome Dustin Lolli into this wild little ride we call Sanctus Real I look forward with anticipation to more great experiences, more memories, more music and most of all more stories from all of you about how God uses these songs in your lives. It has always been and I'm certain forever will be our greatest desire to point all who will listen to Jesus and to be found among those who worship Him in Spirit and in Truth. I'm excited to watch this new chapter unfold as I believe God has brought the person He wants for us in Dustin to continue to fulfill this calling He's put on our lives.
I could never thank you all enough for the love and support you've shown this band over the last twenty years. It's meant so very much to us. THANK YOU!!! And now… It begins again…
A Letter From Our New Singer:
First of all, wow, what an experience. To say that God moves in mysterious ways would be a complete understatement. I'm still not completely sure how this all happened this quickly, it seems like yesterday the call came from Jake and the next thing I know I'm joining a band, but not just any band, a band that has influenced millions of people with great songs, a band who created a legacy and somehow also found longevity. Sanctus Real is not just any band, and to merely be asked to be part of something that others have poured their heart and soul into like they have is both intimidating and exciting all at the same time.
Second, I just want to offer a huge thank you to Matt Hammitt for helping to lay a foundation that I am fortunate enough to step into. I don't take this opportunity for granted, knowing the sweat, tears, and emotions that have gone into building this band into what it is today and I know that He was a major part of that.
Third, to long-time fans of Sanctus Real I understand what this band means to you. I hope that together we can begin a journey to get to know each other ultimately with the understanding that we the band are following the heart of our Creator the best we know how. Chris, Mark, Jake, and Seth are incredible human beings and I have been amazed at not only their passion to make great music but also the desire to do what they feel they have been called to do. Hopefully, you will join us on this journey.
And finally, I hope you realize that you are loved by our Creator, not for what you do, but because you were created by Him. I hope that through our music you feel His love all around you, and that in your hurt, your scars, your pains, you know that He is there to comfort, to heal, and most of all, to love. After all that is what this music is about.
Thanks,
Dustin
##