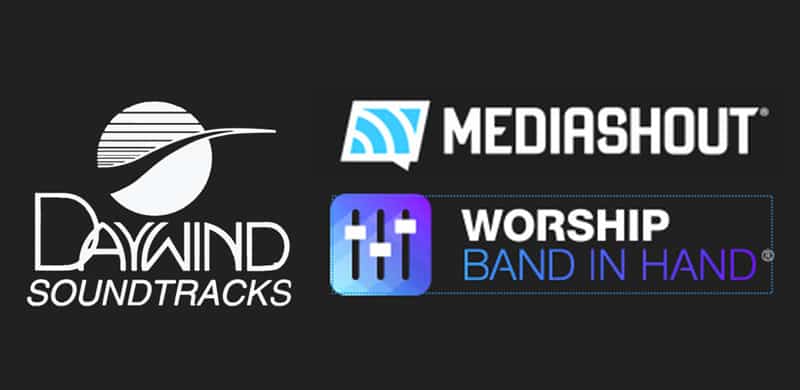 Hendersonville, TN (January 26th, 2016) – Daywind is excited to announce a new arrangement with Worship Band In Hand that will let its customers have more ways to use its tracks in churches around the world.
MediaShout, well known for user-friendly presentation software that is utilized by a large number of churches, recently launched a new application called Worship Band In Hand. This versatile app gives worship leaders and music ministers the ability to customize instrumental tracks to meet their individual church's needs. This technology allows even small churches to provide full accompaniment to their worship services, and larger churches to fill in gaps in their orchestra or praise band. With an accompaniment track catalog of over 4,000 titles, and new titles added bi-weekly, Daywind is the perfect partner to provide Worship Band In Hand with the newest and most popular songs being sung in churches today. Together, the companies hope to branch out into more churches to provide the best worship experience possible to churchgoers everywhere.
"MediaComplete (makers of MediaShout and Band-In-Hand) is honored to be in partnership with Daywind Music Group in the release of their recordings through Worship Band In Hand," shares Tyler Bullock, Director of Marketing at MediaShout. "Daywind's storied past is part of Nashville's music heritage and a testament to the entrepreneurial spirit of Dottie Leonard and her family. We share their values of excellent customer service and care, as well as the celebration of God-honoring music heard in churches all over the world. As believers, we are grateful for their contribution to Christian music and are delighted to be working alongside them to expand the reach of these wonderful songs."
Daywind President Ed Leonard comments, "We are excited to give those who love our wonderfully produced and timely released accompaniment tracks the chance to use them in a multitude of new ways, from key changes to midi tracks, so that these great songs can be shared in churches around the world."
##
Worship Band In Hand is a powerful app for using Band Tracks to extend worship teams. Simply choose the parts you need to create a full sound. With Worship Band In Hand, you can loop any section of a song on the fly, change key and tempo, and even rearrange songs. Giving worship leaders flexibility to still have worship, even while using tracks. Additional features include shareable set lists, Bluetooth pedal control, and synching playback with up to 5 devices.
MediaShout was the first of church presentation softwares, invented over 15 years ago. As the pioneers of the space, MediaShout continues to create stronger, faster, and simpler designs. MediaShout 6 is the most powerful, user-friendly and feature rich program to date, featuring lyric management, Bible verses, and multimedia content.
Daywind Soundtracks is the leader in Christian accompaniment tracks, and can be found at daywind.com or by calling 1.800.635.9581. For more information, visit www.daywindrecords.com.
Media Contact:
Dani Phillips
publicity@daywind.com