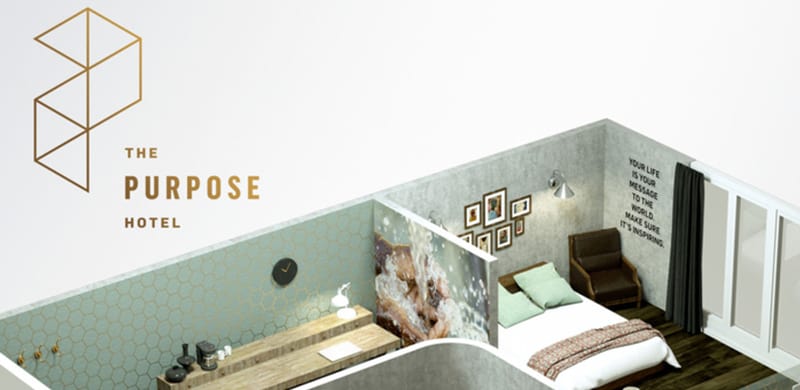 Charity: Water, Compassion International, International Justice Mission and more among partners in impactful project
Crowd-sourced effort to kick off via Kickstarter Tuesday, July 19
Nashville, Tenn. (July 14, 2016) — The Purpose Hotel™ will launch its effort to "change the world in your sleep" this Tuesday, July 19 as founder Jeremy Cowart (Huffington Post's most influential photographer on the web) invites people everywhere to join him in the fight for change.
From room keys and soaps to furniture and internet fees, every aspect of the global hotel chain will align with a greater mission through partnerships with organizations such as Charity: Water, Compassion International, International Justice Mission, Thistle Farms and more. Fighting cyclical issues around the globe, the first location in the chain is scheduled for Cowart's hometown of Nashville, Tenn.
"To me, The Purpose Hotel™ is a statement that what unites us is far more important than the boundaries we're born into," said Cowart. "With your help, we're about to build a hotel unlike anything the world has ever seen."
Anyone can support the launch of the design and building process by backing The Purpose Hotel™'s Kickstarter campaign, starting on Tuesday, July 19. Additionally, supporters can join the hotel's Thunderclap Campaign, which is currently the No. 1 trending campaign on Thunderclap, a platform that amplifies a message through social media support. Follow the progress of The Purpose Hotel™ by signing up for the newsletter or join the conversation on Twitter or Facebook.
About The Purpose Hotel™
The first hotel of its kind, celebrity photographer Jeremy Cowart (Taylor Swift, Carrie Underwood, Kelly Clarkson, Tim Tebow, The Kardashians, Sting, Maggie Gyllenhaal, Heidi Klum, Emma Stone, Ryan Seacrest and more) created humanitarian relief project The Purpose Hotel™ that aims to fight against injustices of war, hunger, poverty, global warming, racial tension, unclean water, addictions and natural disasters. Every aspect of the global chain will directly contribute to those in need through partnerships and sponsors. The project is launching with a large campaign designed and developed by The Purpose Hotel™. Through the project's Kickstarter, individuals have the opportunity to become co-founders as backers of the project.
Get Connected With The Purpose Hotel™
thepurposehotel.com
Hashtag // #ThePurposeHotel
Twitter
Facebook
About Jeremy Cowart
Named one of the most influential photographers on the web (Huffington Post), Jeremy Cowart has photographed the likenesses of Sting and Emma Stone to The Kardashians and Taylor Swift. Capturing images in over 25 countries, his work has been seen on the pages of Rolling Stone and USA Today, reaching the channels of A&E and ESPN. An earnest desire to do more has led the notable photographer to focus on Help-Portrait, See University and now, The Purpose Hotel™.
Get Connected With Jeremy Cowart
jeremycowart.com
Twitter
Facebook
Pinterest
Instagram
Google+
YouTube
##
Media Contact
the media collective
Velvet Kelm, Courtney Hyder, Kirsten Grenier & Brooke Huppenthal
velvet@themcollective.com
courtney@themcollective.com
kirsten@themcollective.com
brooke@themcollective.com
615.591.7989
www.themcollective.com