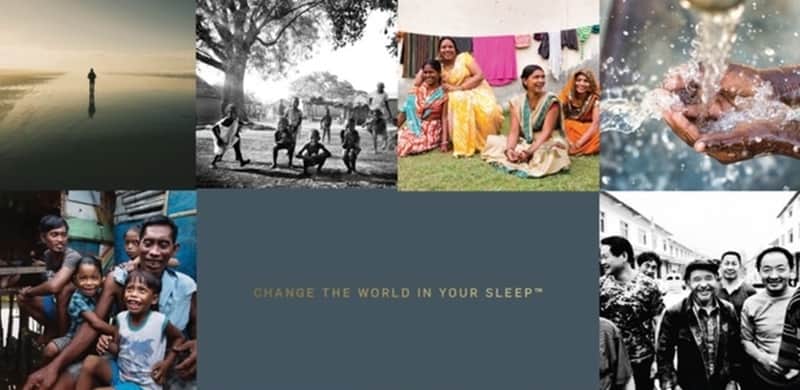 Over two million in social reach and support via Thunderclap
Nashville, Tenn. (July 19, 2016) – The Purpose Hotel™ launches today, inviting the public to back the project through their Kickstarter campaign, available HERE. Reaching over two million people on various social media platforms via Thunderclap, the crowd sourced effort offers individuals the chance to "change the world in your sleep™" through the hotel's philanthropic efforts. With a dedicated goal of $2 million in funding, backers of the hotel will receive perks and rewards based on their pledge to The Purpose Hotel™ Kickstarter.
The Purpose Hotel Kickstarter Video from Jeremy Cowart on Vimeo.
From blankets to soap, Internet access to furniture, The Purpose Hotel™ will help fight cyclical issues through domestic and international partnerships. Fueling not-for-profits around the globe, The Purpose Hotel™ will source its materials from organizations that actively work to improve the lives of people around the world.
For more information on The Purpose Hotel™ and The Purpose Hotel™ Kickstarter campaign, visit thepurposehotel.com.
About The Purpose Hotel™
The first hotel of its kind, celebrity photographer Jeremy Cowart (Taylor Swift, Carrie Underwood, Kelly Clarkson, Tim Tebow, The Kardashians, Sting, Maggie Gyllenhaal, Heidi Klum, Emma Stone, Ryan Seacrest and more) created humanitarian relief project The Purpose Hotel™ that aims to fight against injustices of war, hunger, poverty, global warming, racial tension, unclean water, addictions and natural disasters. Every aspect of the global chain will directly contribute to those in need through partnerships and sponsors. The project is launching with a large campaign designed and developed by The Purpose Hotel™. Through the project's Kickstarter, individuals have the opportunity to become co-founders as backers of the project.
Get Connected With The Purpose Hotel™
Website
Hashtag // #ThePurposeHotel
Twitter
Facebook
About Jeremy Cowart
Named one of the most influential photographers on the web (Huffington Post), Jeremy Cowart has photographed the likenesses of Sting and Emma Stone to The Kardashians and Taylor Swift. Capturing images in over 25 countries, his work has been seen on the pages of Rolling Stone and USA Today, reaching the channels of A&E and ESPN. An earnest desire to do more has led the notable photographer to focus on Help-Portrait, See University and now, The Purpose Hotel.
Get Connected With Jeremy Cowart
Website
Twitter
Facebook
Pinterest
Instagram
Google+
YouTube
##
Media Contact
the media collective
Velvet Kelm, Courtney Hyder, Kirsten Grenier & Brooke Huppenthal
velvet@themcollective.com
courtney@themcollective.com
kirsten@themcollective.com
brooke@themcollective.com
615.591.7989
www.themcollective.com