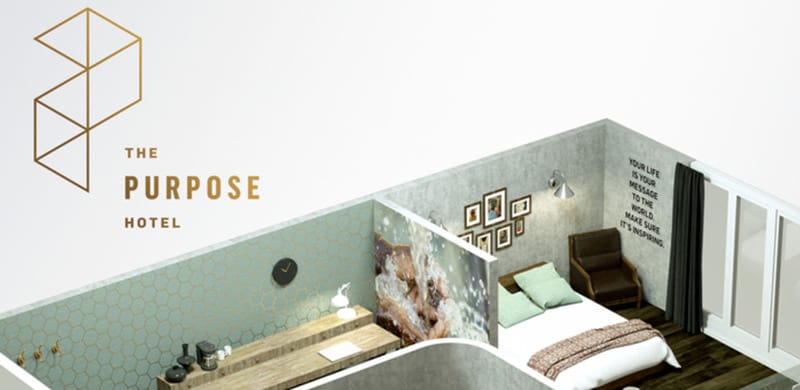 Nashville, Tenn. (September 14, 2016) – Receiving an overwhelmingly positive response after sharing their vision with the world, The Purpose Hotel™ campaign has exceeded the initial goal of $347,000 pledged on Kickstarter in less than 48 hours. The project relaunch on September 12 tracked faster than anticipated, as nearly 2,000 people joined in backing the crowd-sourced effort. Humbled by the movement of all backers, meeting the Step One goal allows The Purpose Hotel™ team to take steps in developing the initial designs and financing of the building.
"The momentum this campaign has is unbelievable. Right out of the gate we had not only return backers, but new ones as well. I'm grateful, humbled and really excited to see where this goes over the next 24 days," says Cowart. "This is proof that people care. I'm already hearing stories of people who have been inspired and uplifted by this idea. It's going to just multiply from here."
The next phase of The Purpose Hotel™ relies on meeting the second step of $755,000 through the Kickstarter campaign. Step Two will allow The Purpose Hotel™ team to further the hotel architectural plans, interior planning and engineering design/planning specific to the sites selected for the hotel.
Backers can continue supporting the campaign until its conclusion on Friday, October 7. To back The Purpose Hotel™, visit thepurposehotel.com.
About The Purpose Hotel™
The first hotel of its kind, celebrity photographer Jeremy Cowart (Taylor Swift, Carrie Underwood, Kelly Clarkson, Tim Tebow, The Kardashians, Sting, Maggie Gyllenhaal, Heidi Klum, Emma Stone, Ryan Seacrest and more) created humanitarian relief project The Purpose Hotel™ that aims to fight against injustices of war, hunger, poverty, global warming, racial tension, unclean water, addictions and natural disasters. Every aspect of the global chain will directly contribute to those in need through strategic sourcing and procurement. The project is launching with a large campaign designed and developed by The Purpose Hotel™. Through the project's Kickstarter, individuals have the opportunity to become co-founders as backers of the project.
Get Connected With The Purpose Hotel™
thepurposehotel.com
Hashtag // #ThePurposeHotel
Twitter
Facebook
About Jeremy Cowart
Named one of the most influential photographers on the web (Huffington Post), Jeremy Cowart has photographed the likenesses of Sting and Emma Stone to The Kardashians and Taylor Swift. Capturing images in over 25 countries, his work has been seen on the pages of Rolling Stone and USA Today, reaching the channels of A&E and ESPN. An earnest desire to do more has led the notable photographer to focus on Help-Portrait, See University and now, The Purpose Hotel.
Get Connected With Jeremy Cowart
jeremycowart.com
Twitter
Facebook
Pinterest
Instagram
Google+
YouTube
##
Media Contact
the media collective
Velvet Kelm, Courtney Hyder, Kirsten Grenier & Brooke Huppenthal
velvet@themcollective.com
courtney@themcollective.com
kirsten@themcollective.com
brooke@themcollective.com
615.591.7989
www.themcollective.com