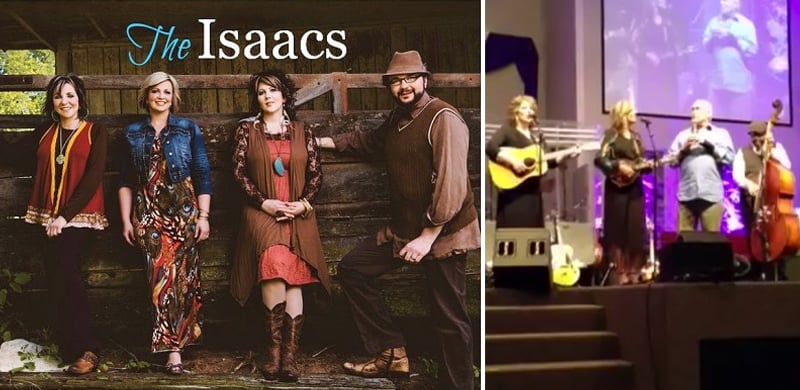 Nashville, Tenn (April 27, 2015) Just a few short days ago, former NFL Superstar Terry Bradshaw, joined the Isaacs on stage to perform the classic Gospel song "What A Day That Will Be" in Pollok, Texas.
His appointment got canceled in Louisiana, so he decided to drive a few miles to Texas to hear the Isaacs. Not only did Terry show up, but he also brought his 86 year old Mother and his lovely wife, Tammy. Bradshaw garnered a huge laugh when he asked the question "How many singers get the Isaacs to open for them?"
No stranger to the singing microphone, as Terry Bradshaw recorded several Gospel albums in the 1980s, he comfortably picked up the mic and related that he sang this song a several weeks earlier in Hawaii. With that, the Isaacs started strumming their instruments, Terry grabbed his cheat sheet and they were off and running with a great rendition of this classic song.
Lily Isaacs commented, "It's so strange that people who are legends in their own right would say they are a "Fan" of the Isaacs. We have known Terry for several years and are always pleased to be with him and his family. Terry is not ashamed of his Christianity in a broadcast world where it is not common."
The video has had over 4 million views and can be seen on the Isaacs FaceBook page with this link: https://www.facebook.com/video.php?v=10153244137217008
The Isaacs have been busy elsewhere in the music world being honored with three Ovation Awards at the prestigious Absolutely Gospel Music Awards held earlier this month in Smyrna, TN. The popular group won Mixed Group of the Year and Special Event Project of the Year. Ben Isaacs won for Producer of the Year.
The Isaacs also recently performed at the Southern Gospel Music Guild's Harmony Honor Awards program. The group performed one song penned by each honoree, Rusty Goodman and Dottie Rambo.
If you would like to interview the Isaacs contact AG Publicity at info@agpublicity.com.
To learn more about the Isaacs please visit:
Website
Facebook
Twitter
If you are interested in booking the Isaacs go to the Harper Agency at www.harperagency.com or info@harperagency.com.
##
About The Isaacs
The Isaacs, a multi-award winning family group who began singing 30 years ago, are based out of Nashville, TN. The vocalists are Lily Isaacs, Ben Isaacs, Sonya Isaacs Yeary and Rebecca Isaacs Bowman. Playing their own acoustic instruments and joined by other band members, The Isaacs have a unique style that blends tight, family harmony with contemporary acoustic instrumentation that appeals to a variety of audiences. Their musical influences emerge from all genres of music including bluegrass, rhythm and blues, folk, and country, contemporary acoustic and southern gospel.
Family also just recently sang anthem at Indiana Pacers game and got a standing ovation. They perform frequently at the Grand Ole Opry, are active members on the Gaither Homecoming Videos and Concert Series and travel throughout the year performing internationally. Concert venues include civic centers, auditoriums, arenas, fair grounds, parks, churches and other locations. They have performed the National Anthem for many sporting events, including a Cincinnati Bengal's football game, several Nashville Predators Hockey games, an Astros/ Braves pre-season baseball game as well as various political gatherings. They also received a standing ovation for their patriotic performance at Carnegie Hall.
Media Contact:
AG Publicity
info@agpublicity.com
615-545-5315