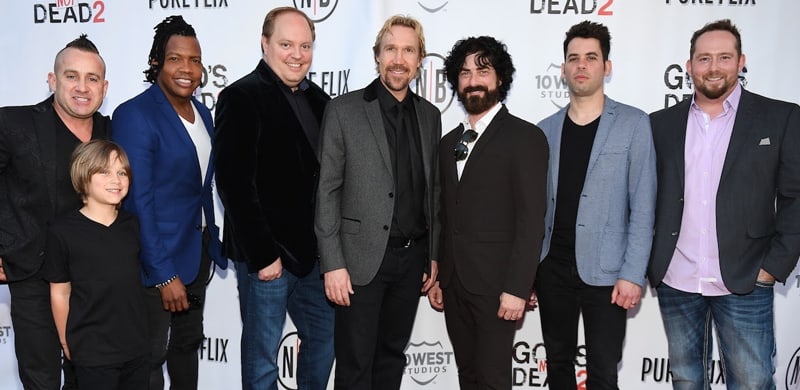 Pictured (l-r) at the Nashville premiere of "God's Not Dead 2": Newsboys' Duncan Phillips (with son Jack) and Michael Tait; "God's Not Dead 2" producer/Pure Flix partner Michael Scott; actor/producer/Pure Flix partner David A.R. White; Newsboys' Jody Davis and Jeff Frankenstein; and "God's Not Dead 2" director Harold Cronk. (Photo: Jason Davis/Getty Images)
NASHVILLE, Tenn.—Prior to the national release of Pure Flix's "God's Not Dead 2," GRAMMY®-nominated, Platinum®-selling Newsboys hosted an exclusive premiere of the highly anticipated film in Nashville. Held at the historic Franklin Theatre, the star-studded event brought together top names from the motion picture with some of Christian music's leading artists.
Appearing in "God's Not Dead 2" and contributing the film's theme song, "Guilty," Newsboys led the all-star red carpet, which also featured actors David A.R. White, Brian Schaefer and Abigail Duhon; GRAMMY®-winning recording artist Audio Adrenaline; best-selling comedian Chonda Pierce; FairTrade Services singer/songwriter John Tibbs; GRAMMY®-nominated singer/songwriter Ryan Stevenson; recording artist 1GN; singer/songwriter Kolby Koloff; and Zach Hall, co-producer of Newsboys' Love Riot album, among others.
The weekend's fourth biggest box office hit, behind blockbusters "Batman v. Superman: Dawn of Justice," "Zootopia" and "My Big Fat Greek Wedding 2," "God's Not Dead 2" stars Melissa Joan Hart, Jesse Metcalf, David A.R. White, Hayley Orrantia, Ernie Hudson, Sadie Robertson, Robin Givens, Fred Thompson, Maria Canals-Barrera, Pat Boone and Ray Wise, among others. The original "God's Not Dead," which featured an appearance by the Newsboys and their signature song of the same name, became a box office sensation following its release in 2014.
Newsboys' critically-acclaimed FairTrade Services recording, Love Riot, which includes "Guilty," recently debuted at #1 on Billboard's Top Rock Albums chart and Top Alternative Albums chart, along with topping numerous other national charts, marking one of the biggest sales weeks for a Christian artist to date this year.
For further information, visit newsboys.com or turningpointpr.com. Follow Newsboys on Twitter and Instagram @newsboys.
##
Media Contact:
Brian Smith, President
Emily Kohl, Vice President
turningpointpr.com