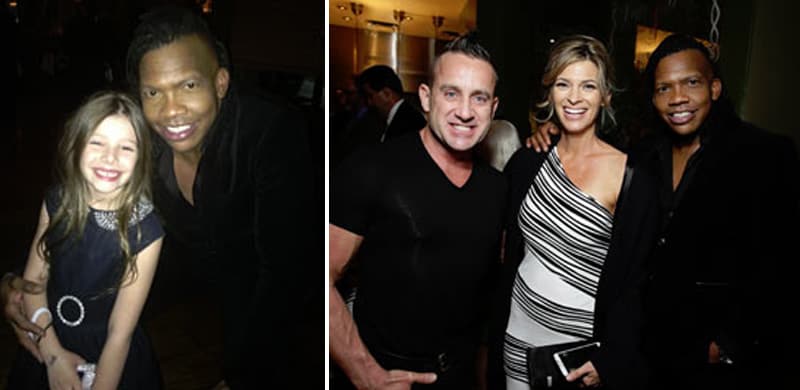 LEFT: Newsboys' Michael Tait is pictured at the "Do You Believe?" Hollywood premiere with actress Makenzie Moss (Lily). RIGHT (credit: Le Studio Photography): (L-R) Newsboys' Duncan Phillips, actress Tracy Melchior (Grace), and Newsboys' Michael Tait at the premiere.
NASHVILLE, Tenn.—Michael Tait and Duncan Phillips of GRAMMY®-nominated, best-selling mega group Newsboys were among a star-studded line-up walking the red carpet earlier this week at the Hollywood premiere of Pure Flix's highly-anticipated new theatrical release, "Do You Believe?"
The latest film from the creators of the 2014 smash hit "God's Not Dead," "Do You Believe?" sees a dozen different souls, all moving in different directions, all longing for something more. As their lives unexpectedly intersect, they each are about to discover there is power in the Cross of Christ…even if they don't believe it. Yet.
Newsboys' longest-running #1 single to date, "We Believe," serves as the theme song of the film, which arrives in theatres today and stars Academy Award®-winner Mira Sorvino, Sean Astin, Cybill Shepherd and Lee Majors, among others.
Comprised of lead vocalist Michael Tait, Jody Davis (guitar), Jeff Frankenstein (keys) and Duncan Phillips (drums), Newsboys are one of the most influential bands in Christian music today with more than 8 million units sold, six Gold® records, 33 #1 radio hits, four GRAMMY® nominations and multiple Dove Awards. "God's Not Dead," Newsboys' chart-topping signature single, inspired Pure Flix's 2014 hit film of the same name. The band's latest recording and debut collection of hymns, Hallelujah For The Cross, released last fall and features the legendary group's take on nine classics and one new selection.
For further information, visit newsboys.com or turningpointpr.com. Follow Newsboys on Twitter @newsboys.
##
Media Contact:
Brian Smith
brian@turningpointpr.com
PRESIDENT
Emily Kohl
emily@turningpointpr.com
VICE PRESIDENT
Turning Point Media Relations, Inc.
106 Mission Court, Suite 106
Franklin, TN 37067
615.261.1818