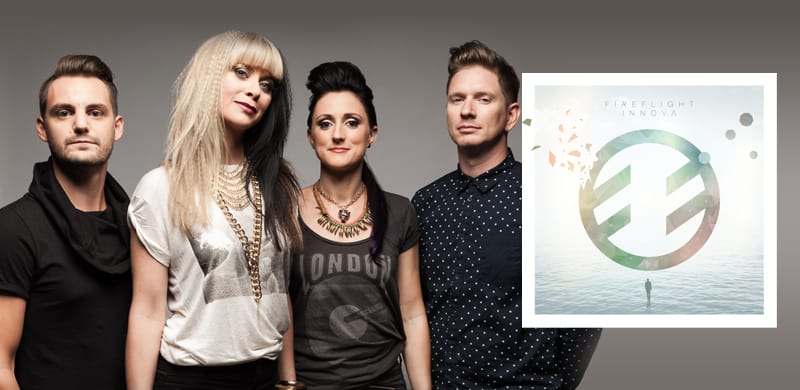 Fireflight Touring Set To Resume Following May 5 Release of 5th Album, INNOVA
Lead Single, "Resuscitate," Continues At No. 1 For 12th Consecutive Week
Fireflight's lead singer Dawn Michele and her husband, musician Matt Lott, celebrate the birth of their first baby. Johnny Scott Danger Lott was born in Albuquerque yesterday (3/23/15) at 12:21 pm MDT, weighing 7 pounds, 8 ounces and measuring 19½ inches long.
"Meet Johnny Scott Danger Lott. This is the best day of my life!" tweets Dawn and sharing the photo (right) on Instagram and Facebook. "Your prayers made it possible. I love you all!"
While Dawn enjoys her time as a first-time mother, Fireflight's touring remains quiet. All that is about to change though with the band preparing for its highly-anticipated and first new album in over three years, INNOVA.
INNOVA is a masterful step forward utilizing the innovative tools available to established bands in 2015, while building on a storied history that includes a Grammy nomination, major festivals and nearly 400,000 albums sold. After building a fiercely devoted following across four albums pushed through the major label system, including The Healing Of Harms, Unbreakable, For Those Who Wait (which cracked Billboard's Top 100) and the No. 1 Christian Rock album, Now, which surfaced in Spring 2012, Fireflight releases INNOVA independently through The Fuel Music May 5, 2015. Refined during a season of pain, uncertainty and frustration, the album stretches the limits of the band's art, reinventing itself while continuing to connect with its fans on a personal level.
Remarkably, INNOVA has not only already sparked Fireflight's eighth No. 1 hit on Billboard's Christian Rock chart, but lead single "Resuscitate" continues to hold that top spot on the chart for its 12th consecutive week.
Offering music fans a further glimpse into the new recording, the band's debut Hot AC/CHR single from INNOVA, "We Are Alive," is at radio now. While "Resuscitate" stays true to the band's heavy musical roots, the amped up energy of "We Are Alive" taps into the concept of community and the ability to build one another up. Both songs are available now as instant downloads with a pre-order of INNOVA on iTunes or on PledgeMusic.com.
For more information on Fireflight and INNOVA, go to:
www.Fireflightrock.com
@Fireflightrock
instagram.com/Fireflightrock
www.youtube.com/user/Fireflightrock
www.facebook.com/Fireflightrock (the band has more than 450,000 likes)
##
Media Contact:
Rick Hoganson
Hoganson Media Relations
615-459-9870
Hoganson@comcast.net.