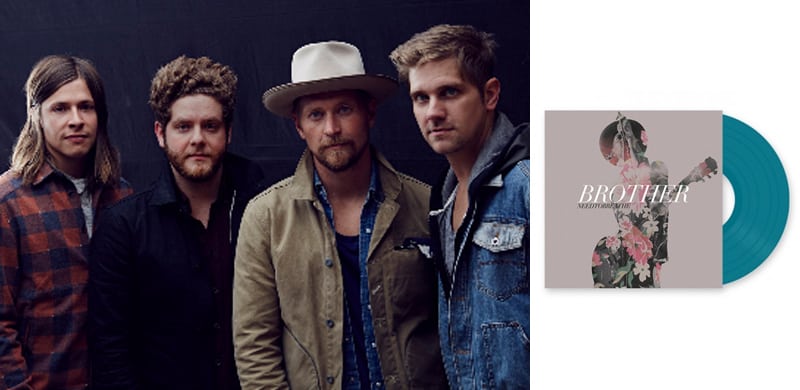 GRAMMY-NOMINATED ROCK BAND NEEDTOBREATHE ANNOUNCES 2015 NORTH AMERICAN TOUR; "TOUR DE COMPADRES" KICKS OFF THURSDAY, APRIL 23rd AT THE TUSCALOOSA AMPHITHEATER IN TUSCALOOSA, AL
ENTERTAINMENT WEEKLY PREMIERES THE SOUTH CAROLINA BASED QUARTET'S NEW SINGLE "BROTHER (FEATURING GAVIN DEGRAW)"
"BROTHER" DIGITAL SEVEN-INCH SINGLE IS AVAILABLE NOW
February 2, 2015 – Nashville, TN – Atlantic recording group NEEDTOBREATHE has announced details for their first North American headlining tour of 2015. Dubbed "Tour De Compadres," the 40 city run supports the GRAMMY-nominated rock band's latest album, RIVERS IN THE WASTELAND, and will kick off at the Tuscaloosa Amphitheater in Tuscaloosa, AL on April 23rd. The aptly named tour sees the ten-time Dove Award winners bringing out some of their best friends for these special nights. The first leg of the tour features Ben Rector as main support, with Switchfoot taking over for the second leg of the tour; Drew Holcomb & the Neighbors and Colony House fill out the lineup on both legs. Tickets go on sale to the general public beginning at 10am local time on Friday, February 6th. Limited presale tickets will be available starting 10am local time on Wednesday, February 4th. For more information, please visit www.needtobreathe.com.
To coincide with the tour announcement, 3-time Dove Award winning Group of the Year, NEEDTOBREATHE, has unveiled their brand new single "Brother (featuring Gavin DeGraw)" http://youtu.be/CgV4jG2auZA. Entertainment Weeklypremiered the track last week, calling the song "…full, anthemic, a little bit woodsy and alarmingly catchy." The rave review further enthused, "[frontman] Bear Rinehart's sincerity is unmistakable in his vocals, and the bluegrass backing culminates in something sweetly rich." "Brother (featuring Gavin DeGraw)" is available now as a digital seven-inch which also includes an exclusive, acoustic version of the song. "Brother (featuring Gavin DeGraw)" is the second single off of the band's latest album RIVERS IN THE WASTELAND, which debuted at #1 on the Billboard Christian Albums Chart and #3 on the Billboard 200 upon its release last year. The song goes for adds at Christian radio on 2/13, and has already gained support from 15 reporting stations including national network Air 1.
NEEDTOBREATHE recently received their first GRAMMY nomination for their song "Multiplied," also featured on RIVERS IN THE WASTELAND. After attending the 57th Annual GRAMMY Awards in Los Angeles, the band will head overseas to begin their headlining tour in Australia.
NEEDTOBREATHE is a 10-time Dove Award winning and GRAMMY-nominated, American Rock 'n' Roll Band from South Carolina, effortlessly woven from the musical traditions and faith of their upbringing in the Deep South of the United States. Made up of brothers Bear Rinehart (vocals, guitar) and Bo Rinehart (guitar, vocals), Seth Bolt (bass, vocals) and Josh Lovelace (keys, vocals), the band hit their big break in 2005 when they signed to Atlantic/Lava/Word Records. The career to follow would include four full studio albums, chart-topping cross-genre success, 3 Dove Awards for Group of the Year, multiple headlining tours and media coverage on CONAN, The Ellen DeGeneres Show, The Tonight Show with Jay Leno, Late Night with Jimmy Fallon, Late Show with David Letterman, CBS This Morning, MTV, FOX, CCM Magazine, New Release Tuesday, HearItFirst.com and much more. The band's critically acclaimed fifth studio album RIVERS IN THE WASTELAND was released on April 15, 2014, and debuted at #1 on the Billboard Christian Music Chart and #3 on the Billboard Top 200 Chart.
For more, please visit www.NEEDTOBREATHE.com,www.facebook.com/NEEDTOBREATHE, www.twitter.com/NEEDTOBREATHE, and www.atlanticrecords.com.
##
Media Contact:
Caroline Lusk
Publicity Manager
Warner Music Group/Word Entertainment
caroline.lusk@wmg.com
615.726.7947 (o)
615.473.9973 (m)