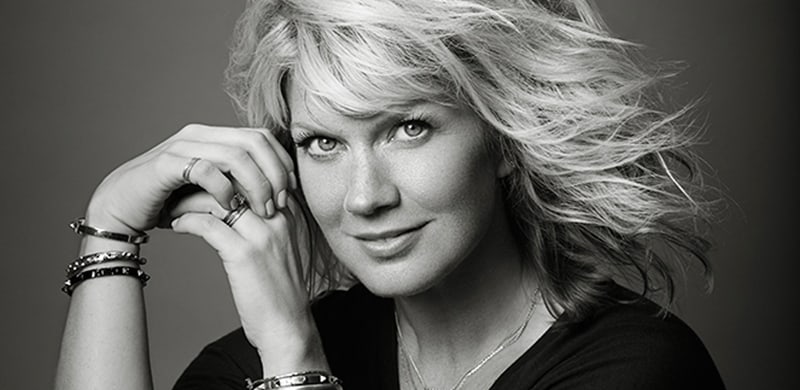 Multi-Grammy® Nominated Natalie Grant Shares How She Found Her Passion by Losing Her Voice
Award-winning artist opens up about bulimia, postpartum depression and infertility to empower women to find their calling
GRAND RAPIDS, Mich., August 23, 2016 – Award-winning artist Natalie Grant knows the power of a single voice. While the five-time Gospel Music Association Female Vocalist of the Year may have garnered a long list of accolades over the course of her spectacular career, it wasn't until 2005 that she truly found her God-given voice. Grant realized her calling wasn't limited to music; she has so much more to offer than her singing voice. Today, as a wife, mother, artist, author and business woman, Grant has found her true voice, and she is eager to help other women unearth their authentic voices. With her new book, Finding Your Voice: What Every Woman Needs To Live Her God-Given Passions Out Loud, she's encouraging readers with stories culled from scripture and her everyday life to affirm the redeeming work God desires to do in and through women of all ages.
Like many working moms, Grant feels the enormous pressure culture places on women to be all things to all people, and in her new book, she owns up to shattering this false image of perfection.
"In a society that has placed a premium on belonging, the risk of pursuing our own path seems too great. Suddenly, having it all becomes having what everyone else has," Grant observes. "Whether through a microphone or not, your voice—your call, your purpose in life—has a unique message, and God has provided practical guidance in scripture to equip you to use it."
In Finding Your Voice, Grant looks to significant biblical characters as well as seasons of her own life to assure women that they're not alone in their struggles. Over the course of ten chapters, she candidly shares the vulnerable facets of her personal story—from her early battle with bulimia to her journey through postpartum depression following the birth of her third child. In addition, she also discusses the challenges of fertility treatments and her subsequent miracle babies, after she and her husband were told they had less than a three percent chance of conceiving.
Moreover, she also shines a spotlight on the pivotal trip to India that changed her life and led her to become a voice for the voiceless. After returning from India in 2005, she founded the organization Abolition International to shed light on the horrific issue of human trafficking – a plight that's become a passion for the powerhouse vocalist. The organization has since merged and become known as Hope for Justice, which is now one of the leading anti-human trafficking organizations in the world with six offices spanning four countries and three continents. Hope for Justice identifies and rescues victims, advocates on their behalf and focuses on providing Christ-centered restorative care.
That life-changing trip to India almost didn't happen. Days before she was scheduled to leave, Grant ruptured a vocal chord during a performance, physically losing her voice and was put on complete vocal rest. Instead of canceling her travel plans, she decided to go knowing she would not be able to speak the entire trip. By being silent in India, Natalie realized she had so much more to offer the world than just her singing voice.
"On this trip, I began to see and become convicted that my voice was never meant to simply entertain; God gave me my voice to do the work of the Redeemer," she shares.
Finding Your Voice not only provides relatable stories and Scripturally-sound principles, but the book also finds Grant giving readers practical tips for a healthy, well-rounded lifestyle touching on an array of relevant topics from social media and the unrealistic expectations of others, to self-image, fashion tips and diet and exercise advice. Using the voice as an instrument as a consistent metaphor, Grant applies the tenants of vocal technique to everyday life, encouraging women to find the thing they were meant to do in order to be all God created them to be.
"When I started to do what I loved to do, what God had created me to do—operating fully in my gifting—I began to understand more clearly God's call on my life," Grant writes. "I've made so many mistakes in my life and am humbled every day that despite every shortcoming, God has still chosen to use me as a mouthpiece for Him."
Finding Your Voice is Grant's second non-fiction book and follows the Glimmer Girls series (Zondervan) for tween girls she co-authors with her daughters.
Natalie Grant is a four-time GRAMMY® nominee, a five-time Gospel Music Association Female Vocalist of the Year and a top-selling artist with more than 3 million in career sales to date. Grant has garnered multiple No. 1 radio hits, and her latest album, Be One (Curb), debuted at the top of the Billboard Christian charts. Beyond the accolades, Grant has built a personal, authentic and transparent relationship with her fan base and that connection puts Grant at the top of the industry with fan engagement across all social media platforms. She is also an author and the creator of the fashion and jewelry line, NG by Natalie Grant. As the co-founder of Hope for Justice, one of the world's top non-profit organizations that identifies, rescues and restores victims of human trafficking, she lends her voice to the voiceless. She resides in Nashville, Tenn., with her husband, producer/songwriter Bernie
Herms, and their three children: twins Gracie and Bella and their youngest, Sadie. For more information, visit www.nataliegrant.com.
Zondervan is a world-leading Bible publisher and provider of Christian communications. Zondervan, part of HarperCollins Christian Publishing, Inc., delivers transformational Christian experiences through its bestselling Bibles, books, curriculum, academic resources, and digital products. The company's products are sold worldwide and translated into nearly 200 languages. Zondervan offices are located in Grand Rapids, Michigan. For additional information, please visit www.zondervan.com.
##
Media Contact:
Robin Barnett
robin.barnett@harpercollins.com
(616) 698-3251