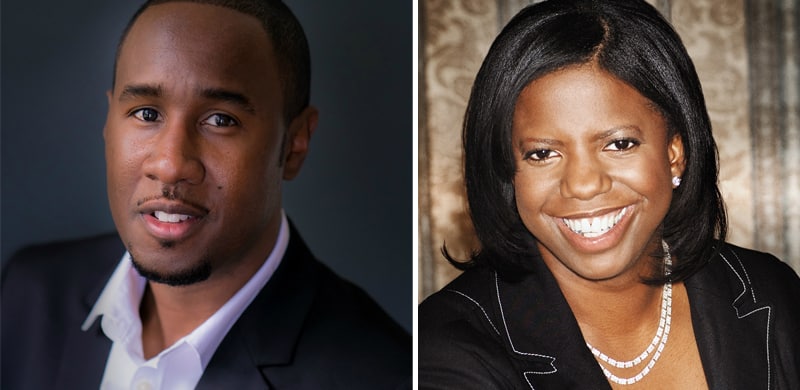 Highly respected and experienced Gospel Music industry executives bring complementary strengths and perspectives to company
Label home to best-selling artists Tasha Cobbs, Tye Tribbett, Vashawn Mitchell and many others
NASHVILLE, TN (Tuesday, September 13, 2016) – – Highly respected and experienced Gospel Music industry executives Monica Coates and EJ Gaines have been appointed to senior management positions at Motown Gospel, it was announced today by Ken Pennell, President of Gospel Music at Capitol Christian Music Group (CCMG), to whom Coates and Gaines report. As Vice President of A&R and Vice President of Marketing respectively, Coates and Gaines will work closely together to further the label's mission by building upon its artist signing and development strategies. They will assume their roles October 3rd and be based at Motown Gospel/CCMG's headquarters in Nashville.
In her role at Motown Gospel, Coates will direct A&R, Creative and Promotion functions while Gaines, in the newly created position at the company will oversee Commercial Partnerships, Publicity and Events, Digital Marketing and Content Creation/Monetization, Sync and Business Affairs.
Both Coates and Gaines will also work with CCMG Publishing to discover, sign and develop songwriters and expand the company's existing roster of Gospel writers and producers including Kirk Franklin, Fred Hammond, Tasha Cobbs, Aaron Lindsey plus many others and its strong catalog of 1000's of owned and administered songs including "Take Me to The King", "Break Every Chain", "You Are Good", "Soon and Very Soon", "Total Praise", "Jesus At The Center", "No Weapon" and "Never Would Have Made It".
According to Pennell, "We are so excited to be naming Monica Coates and EJ Gaines to these important positions within Motown Gospel. They both bring a wealth of experience to their respective roles, and our artists will benefit greatly from their diverse skill sets, passion for music and belief in how Gospel Music can enrich the lives of its listeners. All of us within Motown Gospel and CCMG wholeheartedly welcome Monica and EJ to our family."
Capitol Music Group (CMG) Chairman & CEO Steve Barnett commented, "CCMG sets the standard for Christian and Gospel music in our industry, and the company's record-breaking results this year are only the latest contributions to our company from this division. With Monica and EJ joining Motown Gospel in such important positions, the label is well positioned to continue its growth and play an important role in the future success of CCMG and CMG as a whole."
CCMG CEO Bill Hearn added "The appointments of Monica and EJ bring two smart and passionate executives to our Motown Gospel family. Our recent reorganization of CCMG's Commercial Partnerships and Marketing teams will provide them with great opportunities for collaborative support and reinforce the resources and abilities of our entire Motown Gospel management team."
Monica Coates is a 24-year veteran of the Gospel Music industry, with a broad range of experience in artist management, promotion, publicity and A&R. Prior to joining Motown Gospel, Coates was General Manager at Kirk Franklin's Fo Yo Soul Recordings/RCA where she oversaw campaigns for an array of artists that included Franklin, The Walls Group, Tasha Page-Lockhart, Geoffrey Golden, and Christon Gray.
She began her career as part of Fred Hammond's production house, Face To Face Productions, where she also served as his personal manager. In addition, she spent five years at industry leading Verity Records as Senior Director of A&R working with best-selling artists Donnie McClurkin and Hezekiah Walker among many others. Coates' first book, The Beginner's Guide To The Gospel Music Industry, was published in 2009.
Prior to accepting his Motown Gospel role, EJ Gaines was an entertainment attorney and artist manager, helping to guide the careers of numerous GRAMMY Award-winning and chart-topping artists, including Jonathan McReynolds, William McDowell, Mary Mary, Donald Lawrence, Isaac Carree, Natalie Grant and more. He began his career at Jive Records and Verity Records (now RCA Inspiration), before becoming an executive assistant to platinum-selling Gospel artist Donnie McClurkin, then graduating from St. John's University School of Law.
##
About Capitol Christian Music Group
Capitol Christian Music Group (CCMG) is the world's leading Christian Music company and market leader in recorded music, music publishing, and distribution. Capitol Christian Music Group operates several divisions, including CCMG Label Group (Sparrow Records, ForeFront Records, sixstepsrecords, Hillsong, Jesus Culture), Motown Gospel (in partnership with Motown Records), CCMG Publishing (including Brentwood-Benson Music Publications) and Capitol Christian Distribution. CCMG owned labels are home to artists Chris Tomlin, Amy Grant, TobyMac, Kari Jobe, Jeremy Camp, Hillsong United, Crowder, Tasha Cobbs, Britt Nicole, Jesus Culture, Bryan Courtney Wilson, Colton Dixon, Mandisa, Tye Tribbett, Matthew West and many others. Capitol CMG Publishing, in addition to publishing most of the CCMG labels' premier artist/writers, represents many of the leading writers in Christian/Gospel including Matt Redman, Joel Houston, Ben Glover, Jonas Myrin, Kirk Franklin, Mark Hall, Chris Stevens, Laura Story, Fred Hammond, David Garcia and many more. Key Distribution partners include The Gaither Music Group, Marantha Music, InPop Records, Worthy Book Publishing and Cinedigm Entertainment.
Led by CEO Bill Hearn and a strong executive team of long-time Christian and Gospel music veterans, Capitol Christian Music Group is characterized by a passionate commitment to its artists, songwriters, customers, business partners and one another, as well as a strong commitment to community service.
CCMG is a division of Capitol Music Group (CMG), led by Chairman and CEO Steve Barnett, which is a wholly owned division within Universal Music Group (UMG), the global music leader with strong market positions in recorded music, music publishing, and merchandising.
Media Contact:
The J. Hardy Agency LLC
Jason Hardy
615-596-2203
Jason@thejhardyagency.com