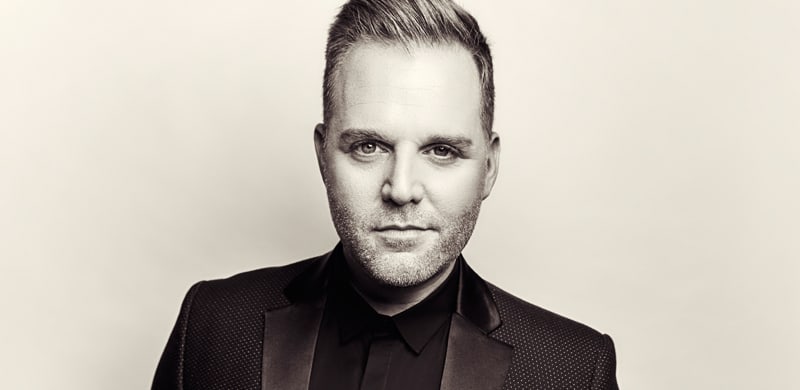 MATTHEW WEST RELEASES HOLIDAY ALBUM – UNTO US: A CHRISTMAS COLLECTION – On October 21;
West Awarded As Top Songwriter-Artist At 38th Annual ASCAP Christian Music Awards
27 September 2016 – Nashville, Tenn – This October 21, award-winning artist and songwriter Matthew West will debut his second full-length studio holiday album, Unto Us: A Christmas Collection (Capitol CMG). Featuring ten songs, five brand new songs along with five of his biggest Christmas hits, this holiday collection will be sure to get every listener in the spirit and is a reminder of God's love and faithfulness – the true reason for the season.
"Christmas is my favorite time of year, hands down!" Matthew West exclaims. "I've been known to break out a Christmas record in July, so no one had to twist my arm to make another Christmas project. I love the classics and wanted to include some of them on this project. 'Silent Night' and 'The First Noel' on this record are two that I'm especially excited about."
He continues, "As a songwriter, I tend to write a few new Christmas songs every year. It's always a way for me to reconnect with the greatest story ever told – the birth of a Savior. The song 'Unto Us' is really for the church. I've led worship ever since I was growing up in my dad's church, and even though I don't always write worship songs I had a musical idea that seemed to send this particular song in that direction. 'Join the Angels' is a fun song celebrating the birth of Jesus and I wanted it to have that classic feel. I actually wrote that song at the beach. Like I said, Christmas in July!"
Since releasing his first Christmas record five years ago, West has been busy headlining major tours including Winter Jam and The Bible Tour, along with helming his own tours. He's also released his bestselling albums, Into The Light and Live Forever, and numerous hit radio singles such as "Hello, My Name Is" and "Grace Wins."
West concludes, "We collected a few of the biggest songs from the last record that people have heard on radio over the past few years and combined them with these new recordings in the hopes that it might be provide a soundtrack to Christmas for everyone. Most importantly, I hope when people listen to these songs their hearts are brought back to the true meaning of this wonderful season." The album's full track listing is below.
WEST NAMED ASCAP'S CHRISTIAN MUSIC SONGWRITER-ARTIST OF THE YEAR
Held last night at Rocketown in downtown Nashville, Matthew West was awarded his third ASCAP Christian Music Songwriter-Artist of the Year award. He previously received the award in 2013 and 2015. West also earned three ASCAP most-performed song awards for his own chart-topping singles, "Grace Wins" and "Day One," as well as Casting Crowns' "Just Be Held." In 2014, West was named ASCAP's top Christian Music Songwriter of the Year and also earned the ASCAP Christian Music Song of the Year award for his single, "Hello My Name Is."
This November, Matthew West will headline Winter Jam West Coast and will embark on a Christmas tour throughout December. For the most updated information, please visit MatthewWest.com and on the social links below.
UNTO US: A Christmas Collection song listing:
Unto Us
The First Noel
Silent Night
A Christmas To Believe In
Join The Angels
Come On, Christmas
Jingle Bells
The Heart Of Christmas
Oh Holy Night
Have Yourself A Merry Little Christmas
ABOUT MATTHEW WEST:
Matthew West is a four-time GRAMMY® nominee, a multiple-ASCAP Christian Music Songwriter/Artist of the Year winner and Dove Award recipient, and was awarded an American Music Award (2013), a Billboard Music Award (2014) and a K-LOVE Fan Award (2016). West also received a Primetime Emmy® Award nomination for Original Music & Lyrics for "The Heart of Christmas" from the film of the same name. In addition to his own recording career, he has co-hosted the K-LOVE Fan Awards two times and has more than 130 songwriting credits to his name, including cuts by Rascal Flatts, Scotty McCreery, Casting Crowns, Michael W. Smith, Amy Grant, and Mandisa, among others. Selling more than 1.2 million albums to date (TEA), West's discography includes acclaimed releases: Live Forever (2015), GRAMMY-nominated Into The Light (2012), The Story of Your Life (2010), Something to Say (2008), History (2005) and Happy (2003). October 2016 he will release his second holiday album, Unto Us: A Christmas Collection.
Well known for communicating stories through song, Matthew West has received thousands of stories from around the world. His latest album, Live Forever, continues that storytelling theme and debuted at No. 1 on the Billboard Christian Sales Chart. He has obtained numerous No. 1 singles, most recently with "Grace Wins," while achieving a record-setting No. 1 for 17 straight weeks at radio with "Hello, My Name Is" and "The Motions" for 15 weeks.
On the road year-round, he has headlined many of his own tours, such as the Live Forever Tour that ran through Fall 2015. He also co-headlined 2016's WinterJam Tour Spectacular, the No. 1 tour in the world, which he first joined in 2013.
Adding author to his list of accolades, West has written four books to date: Give This Christmas Away, The Story Of Your Life, Forgiveness, and Today Is Day One. He is also passionate about providing hope and healing through the power of prayer and story, so along with his father Pastor Joe West he founded popwe, a non-profit ministry helping others to craft, share, and live a more meaningful life. Please visit popwe.org for more information.
MatthewWest.com
Twitter
Facebook
Instagram
YouTube
##
Media Contact:
Merge PR | Stacie Vining
Stacie@MergePR.com | 615.260.4679