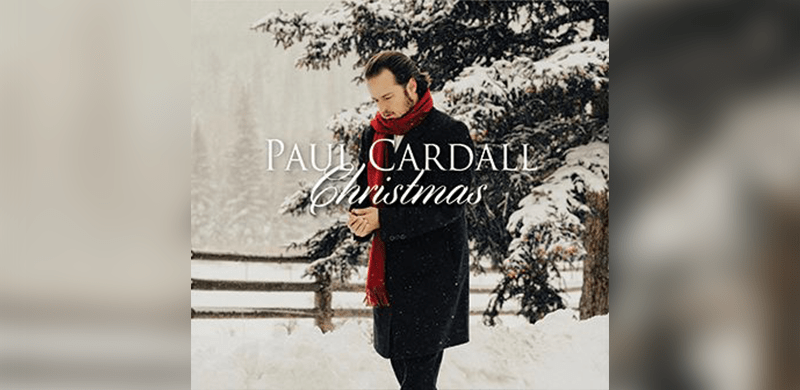 NASHVILLE – December 4, 2018 — There's something about a great Christmas album that transcends time and becomes part of the soundtrack for holiday memories for years to come. Paul Cardall has crafted such an album with his stunning new collection Christmas.
On November 2, composer and pianist Paul Cardall will release Christmas to his world-wide audience. Known for his expansive musical performances that encompass multiple genres, including classical crossover, contemporary Christian and new age, Cardall has earned three No. 1 albums on the Billboard charts, amassed more than two billion lifetime digital streams and continually earns over 25 million streams monthly.
Cardall, who generally produces his own albums, this time tapped Michael W. Smith's longtime musical director Jim Daneker as producer for the substantial project. "This is the first time in 20 years I've worked with a producer," Cardall notes. "I've always been a fan of Michael's music, and the opportunity to work with Jim gave me the moment to take my music to the next level." Christmas was recorded at Nashville's historic Ocean Way Studio.
Anchoring the project is CeCe Winans' extraordinary version of "O Holy Night." "I've been waiting and working hard to find just the right opportunity to give to my audience something extraordinary, and CeCe performing 'O Holy Night' is unbelievable," enthuses Cardall. "CeCe is the best gift I can give my fans this Christmas."
Christmas includes ten of Cardall's stunning instrumental interpretations of such timeless classics as "Hark The Herald Angels Sing," "Joy to the World" and "Away in a Manger." In addition to Winans, Cardall invited two other vocalists to make appearances. Award-winning singer/songwriter Audrey Assad offers an ethereal interpretation of "In the Bleak Midwinter," and Australian Broadway star Patrice Tipoki soars on Cardall's original "Son Of God."
Creating a memorable Christmas collection was a personal mission for Cardall. "The heart of all my music is the whole reason we celebrate Christmas," he shares. "The holiday brings people together — strangers, family. We all long to be with each other. This album speaks volumes about those emotions. With all our differences, we come together, have a meal, make a toast and celebrate joy, gratitude, the Christ child…all of it. This is the purpose and mission of all my music."
##