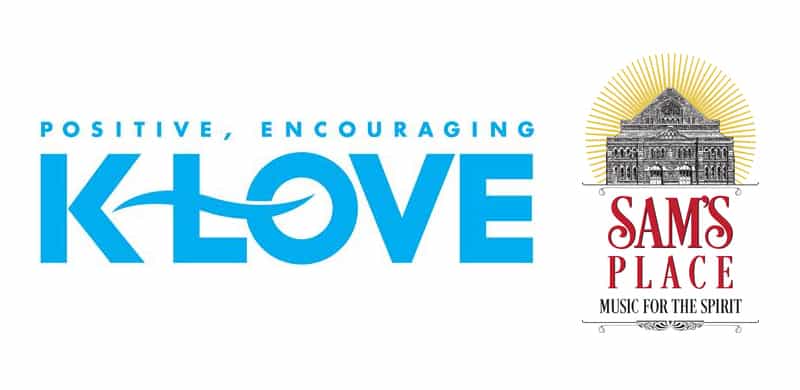 NASHVILLE, TENN. – 9 FEBRUARY 2015 – K-LOVE is pleased to announce they are broadcasting "Sam's Place – Music for the Spirit" on their network. GRAMMY®-winning artist Steven Curtis Chapman is host to this newly revived monthly concert series that is recorded live at Nashville's Mother Church, the historic Ryman Auditorium. "Sam's Place – Music for the Spirit" invites artists from all genres of music to share songs with an uplifting spiritual message and pay homage to the Ryman's tabernacle roots.
The first airing was held on Sunday evening, February 8th and featured Steven Curtis Chapman, Danny Gokey, MercyMe and Tenth Avenue North. Following Sunday's debut, K-LOVE will broadcast four more shows, which are set to air on K-LOVE on March 1, April 5, May 3 and June 7, all at 9PM CT.
"Sam's Place – Music for the Spirit" takes its name from charismatic evangelist Samuel Porter Jones (1847-1906), who gained fame in the region for his energetic sermons filled of fire and brimstone during the mid-1880s. On May 10, 1885, he led a tent revival in downtown Nashville for more than 5,000 which was attended by riverboat captain Thomas Green Ryman (1841-1904). Ryman experienced a conversion that night and, inspired by the multitude unable to find room under the tent, made it his mission to construct a great tabernacle "for all denominations" to join in worship. Seven years later, the Union Gospel Tabernacle opened its doors in 1892. It was Jones, while delivering Ryman's eylogy at the Tabernacle on Christmas Day in 1904, who proposed the building's name to be changed to Ryman Auditorium to thunderous agreement.<
To find out more information about Sam's Place, please click here. Tickets for individual shows are $39.50, $34.50 and $27.50. Season passes are also available. Tickets are on sale now at the Ryman box office, ryman.com or by calling (615) 889-3060. Group rates are available for groups of 15 or more by calling (615) 871-5043.
About K-LOVE: K-LOVE plays positive, encouraging contemporary Christian music with a message designed to draw people toward an authentic relationship with God while living out real life in the real world. The radio network has 446 signals in 47 states with an estimated weekly audience of 14 million. Now with their first-ever Fan Awards, their mission is to create a unique and fun fan experience that celebrates and promotes artists, athletes, authors and entertainers, who, with excellence, engage and impact popular culture for Jesus Christ. For more information, visit: www.klove.com.
About Ryman Auditorium: A National Historic Landmark, Ryman Auditorium was built as a tabernacle by Chaptain Thomas G. Ryman in 1892, served as the home of the Grand Ole Opry from 1943-74, and was completely renovated in 1994. The Ryman is open for tours during the day and at night offers a wide variety of entertainment performances, just as it has for over 120 years. The venue was voted the 2010, 2011, 2012 and 2013 Pollstar Theatre of the Year. Ryman Auditorium is owned by Ryman Hospitality Properties, Inc. (NYSE: RHP), a Nashville-based REIT that also owns and operates the Grand Ole Opry, and 650 AM WSM. For more information, visit www.ryman.com.
About Steven Curtis Chapman: Sam's Place host Chapman is the most awarded artist in Christian music with fifty-eight Gospel Music Association Dove Awards, five GRAMMYs®, forty-eight #1 singles and nearly eleven million albums sold. As part of the Christian music scene since the 1980s, he has eight RIAA-certified gold or platinum albums to his credit. A vocal supporter of adoption, Chapman, along with his wife Mary Beth, founded Show Hope in 2003, a nonprofit organization that helps restore the hope of a family to orphans in distress. A portion of the proceeds of Sam's Place ticket sales will go to Show Hope. www.ShowHope.org.
##
Media Contact:
Merge PR
Lori Mahon – lori@mergepr.com
Stacie Vining – stacie@mergepr.com