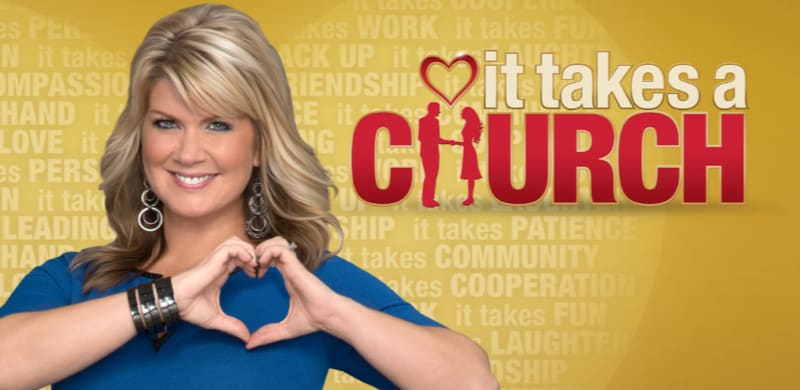 GSN'S ORIGINAL MATCHMAKING SHOW "IT TAKES A CHURCH" RETURNS FOR SEASON 2 ON THURSDAY, MARCH 26 AT 8:00 P.M. ET/PT
Grammy®-Nominated Recording Artist Natalie Grant Returns To Host Show Where Modern-Day Matchmakers Play Cupid For One of Their Own
February 6, 2015 (Santa Monica, CA) — GSN, the leader in game shows and competitive entertainment, announced today the premiere of the second season of their hit matchmaking show, IT TAKES A CHURCH on Thursday, March 26 at 8:00 p.m. ET/PT.
Grammy®-nominated vocalist and multiple Dove Award winner, Natalie Grant, returns as host, visiting churches in California, Michigan, Tennessee, Alabama, Indiana and Wyoming, in hopes of finding love for one fortunate single. Each week, IT TAKES A CHURCH travels to a different location, to surprise one unsuspecting single with the news that they're about to be saved from the dating world, as numerous matchmakers present people they believe would be a great match. However, it is not the bachelor/bachelorette who decides who they will get to know better…it's family, friends and those closest to them in the community! After a series of dates, one person will be chosen, and the matchmaker who brought the chosen suitor also wins a donation made to the church in their name.
Highlights in season two include special guest appearances by actors/performers David & Tamela Mann ("Madea's Big Happy Family") and musician Bo Bice ("American Idol"), plus a shocking surprise proposal. In its first season, IT TAKES A CHURCH was watched by over 6 million people and it achieved triple-digit growth among W18-49 (+113%) and nearly double the audience among W25-54 (+94%), P18-49 (+88%) and P25-54 (+70%) versus the YTD time period average.
IT TAKES A CHURCH is produced by Authentic Entertainment for GSN, with Tom Rogan and Lauren Lexton ("Flipping Out," "The Best Thing I Ever Ate") serving as Executive Producers along with Curnal Aulisio. Sean Kelly ("Minute to Win It") is Consulting Producer. Follow the show online at Twitter: @ItTakesAChurch and Facebook.com/ItTakesAChurch
About GSN
GSN is the leader in game show entertainment across multimedia. GSN presents original and classic game programming and competitive entertainment and games via its 80-million subscriber television network, a dedicated GSN.TV website and via digital game sites. GSN's cross-platform content gives game lovers the opportunity to win cash and prizes, through GSN's popular TV game shows and GSN Games' free casual games, mobile and social games, and skill-game tournaments. GSN's television network is distributed throughout the U.S., Caribbean and Canada by all major cable operators, satellite providers and telcos. GSN is owned by Sony Pictures Entertainment and DIRECTV. For further information, please visit GSNTV.com.
About Natalie Grant
Multi-Grammy nominated Natalie Grant is a powerhouse vocalist, heart-gripping songwriter, and charismatic performer who has consistently remained one of the top selling Christian & Gospel artists since her 2005 breakout RIAA Gold certified album, Awaken. She has since gone on to have over 3 million in career sales.
The Gospel Music Association named her the 2012 Female Vocalist of the Year, an honor that she's received 5 times. Natalie's latest album, "Hurricane," debuted at #1 on the Christian Billboard Charts in the fall of 2013. Beyond her artistry, she is an outspoken advocate for victims of human trafficking. In 2005, Natalie founded an anti-trafficking organization, which is now called Hope for Justice International, known for its work in providing quality restorative aftercare to trafficking victims both domestically and internationally.
##
Media Contacts:
Alison Lazar, Vice President, Publicity and Corporate Communications
alazar@gsn.com
212.492.5671
Marc Grossmann, Director, Publicity and Corporate Communications
mgrossmann@gsn.com
310.255.6937
Jessica Barba, Publicity Manager
jbarba@gsn.com
310.255.6959