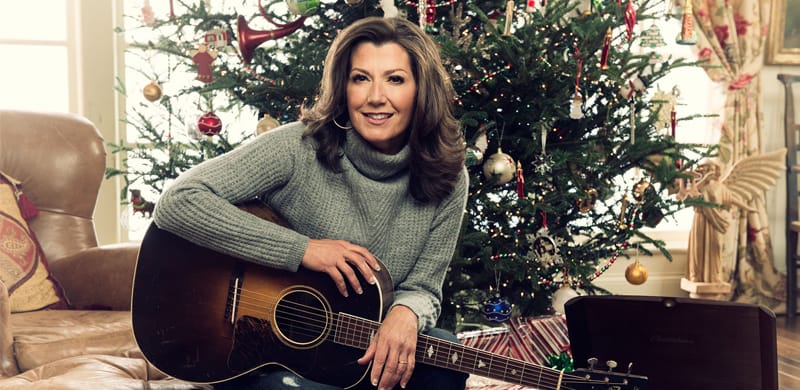 Photo credit: Russ Harrington
PEOPLE Premieres "To Be Together" Music Video
Amy Grant featured in The New York Times, PEOPLE Magazine, FIRST for Women, Nashville Lifestyles, Associated Press, The Huffington Post, Southern Living and more during the holiday season
Nashville, Tenn. (Dec. 7, 2016) – In describing Tennessee Christmas to Billboard, multi-platinum selling singer, songwriter Amy Grant called it "a lovely blend of family and real-life experience, with all the happiness and sadness that comes from this time of year when people are really nostalgic, and all the good and bad kind of bubbles up."
PEOPLE.com is exclusively unveiling the music video for "To Be Together," calling it "a family-oriented original that promises to be an instant hit with an unbelievable back story."

Grant's first all-new holiday album in nearly 20 years intentionally focuses on bringing people together, with multiple songs passionately geared towards the population whose feelings of isolation are amplified over the holidays. Names like The New York Times, Associated Press, The Tennessean and Worship Leader took note of this effort on songs like "Melancholy Christmas."
In late November, Grant appeared on both the CMA Country Christmas (ABC), Hallmark Channel's "Home & Family: Home for the Holidays" (Hallmark), Delilah's Annual Thanksgiving Special and FOX News Radio. Also making waves with Country fans, CMT named Tennessee Christmas one of "10 new country Christmas albums you need under the tree" alongside Country Living one of "9 brand-new country Christmas albums you'll want playing on repeat." Parade joined in resounding the critical acclaim saying "thanks to six-time Grammy winner Amy Grant, you don't have to live in Tennessee to enjoy a beautiful Tennessee Christmas" alongside Southern Living claiming "you're going to want to grab this one."
Grant can currently be found on newsstands in the holiday issues of PEOPLE Magazine, as well as the December covers of FIRST for Women and Nashville Lifestyles.
Earlier in the holiday season, The Huffington Post shared the latest lyric video for "To Be Together" alongside a conversation with the 6X GRAMMY® winner, and Southern Living premiered exclusively the lyric video for "Tennessee Christmas" with reflections of the classic.
Kicking off at Los Angeles' Dolby Theatre, Grant and Michael W. Smith, joined by Republic recording artist Jordan Smith (winner of NBC's "The Voice"), are currently traversing the country performing their Christmas favorites with a full symphony orchestra in twenty major markets including Dallas, Minneapolis, Atlanta and Baltimore. Grant is also teaming up with husband Vince Gill for "Christmas At The Ryman," as they continue their wildly successful residency at the iconic Ryman Auditorium in Nashville.
Tennessee Christmas is a part of Cracker Barrel's Spotlight Music Program and in stores nationwide. A deluxe version is available exclusively at Target. For the latest information on Grant's album and tour, visit www.AmyGrant.com.
About Amy Grant:
Amy Grant's career spans more than 30 years and stretches from her roots in gospel into becoming an iconic pop star, songwriter, television personality and philanthropist. With three multi-platinum albums, six platinum albums and four gold albums, her total career album sales have exceeded 30 million. Grant's chart success has been consistent throughout her career with six No. 1 hits, 10 Top 40 pop singles, 17 Top 40 Adult Contemporary tracks and multiple Contemporary Christian chart-toppers. In addition to her six GRAMMY® Awards, Grant has earned 26 Dove Awards (including four Artist of the Year Awards) and has been awarded a star on the Hollywood Walk of Fame. Conventional wisdom has it that Grant put Contemporary Christian Music on the map becoming the first Contemporary Christian artist to have a platinum record, the first to hit No. 1 on the Pop charts and the first to perform at the GRAMMY® Awards. With that, her legacy as one of the most influential artists of the past four decades is assured. In April, Grant celebrated the 25th anniversary of her iconic hit "Baby Baby" with a worldwide release of the song featuring pop sensation Tori Kelly. Tennessee Christmas will mark Grant's first all-new holiday album in nearly 20 years.
Get Connected with Amy Grant:
www.amygrant.com
Twitter
Facebook
Instagram
YouTube
##
Media Contact
Velvet Kelm & Courtney Hyder
the media collective
velvet@themcollective.com
courtney@themcollective.com
(615) 591-7989
www.themcollective.com