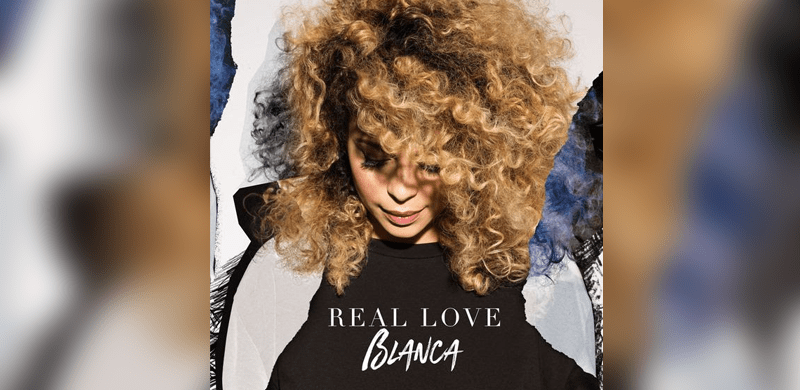 Title Track, "Real Love," Already a Streaming Sensation;
New Music Previews 2018 Sophomore Studio LP
NASHVILLE, Tenn. (September 26, 2017) — Giving fans a taste of new music, powerhouse vocalist Blanca released the Real Love EP (Word Entertainment) on Friday, Sept. 22. The five-track set is now available at all digital and streaming outlets and features the standout title track, which is currently impacting radio and streaming charts worldwide.
Upon release on Aug. 25, Spotify immediately added the lead single to its New Music Friday Playlist, which boasts more than 2 million followers. In less than a week, the track reached Top 20 status on Spotify's all-genre Global Viral 50 Chart and Top 15 on the United States Viral Chart. "Real Love" has been streamed over one million times during its first month of release, including nearly half a million plays of the song's music video.
"Real Love" was written in the wake of the recent death of Blanca's mother, who lost her fight to cancer in December 2016. It was through facing her mother's cancer battle and subsequent passing that Blanca realized she craved more than surface religion. It's a theme that permeates the track listing of her new EP, a collection that fuses her unique blend of rhythmic pop, hip-hop and soul. The fresh songs, all written or co-written by Blanca, continue her commitment to vulnerable, transparent songwriting showcased on her critically-acclaimed self-titled solo debut.
She's currently working on a follow-up full-length studio project due in 2018; but in the meantime, she'll preview new music throughout the fall on the Big Church Night Out Tour alongside Newsboys, Sidewalk Prophets, 7eventh Time Down and more. The tour kicked off Thursday evening in Montgomery, Ala., and will visit 43 cities before concluding Dec. 17 in Charlotte, N.C. See a full list of tour dates below.
Listen to "Real Love" here.
Watch the official music video for "Real Love":
Big Church Night Out tour dates*:
Sept. 21, Garrett Coliseum, Montgomery, AL
Sept. 22, Soldiers and Sailors Memorial Auditorium, Chattanooga, TN
Sept. 23, Red Hat Amphitheater, Raleigh, NC
Sept. 24, Florence Civic Center, Florence, SC
Sept. 28, Landon Arena – Kansas Expocentre, Topeka, KS
Sept. 29, Mabee Center, Tulsa, OK
Sept. 30, Ford Park Arena, Beaumont, TX
Oct. 1, State Farm Arena, Hidalgo, TX
Oct. 5, The Broadmoor World Arena, Colorado Springs, CO
Oct. 6, Amarillo Civic Center Complex Coliseum, Amarillo, TX
Oct. 7, Kay Yeager Coliseum, Wichita Falls, TX
Oct. 8, H-E-B Center at Cedar Park, Austin, TX
Oct. 13, Wings Event Center, Kalamazoo, MI
Oct. 14, Indiana University Auditorium, Bloomington, IN
Oct. 15, State Farm Center, Champaign, IL
Oct. 19, Crossroads Arena, Corinth, MS
Oct. 20, First Baptist Woodstock, Atlanta, GA
Oct. 21, Eastern KY Exposition Center, Pikeville, KY
Oct. 22, BB&T Arena, Highland Heights, KY
Oct. 26, Monroe Civic Center, Monroe, LA
Oct. 27, Lakefront Arena, New Orleans, LA
Oct. 28, Tally Pavilion, Tallahassee, FL
Oct. 29, Germain Arena, Estero, FL

Nov. 9, Augusta Civic Center, Augusta, ME
Nov. 10, O'Neil Center, Danbury, CT
Nov. 11, William D. Mullins Memorial Center, Amherst, MA
Nov. 12, Erie Insurance Arena, Erie, PA
Nov. 16, Music Hall at Cleveland Public Auditorium, Cleveland, OH
Nov. 17, Huntington Center, Toledo, OH
Nov. 18, Blue Cross Arena, Rochester, NY
Nov. 19, Utica Memorial Auditorium, Utica, NY
Nov. 30, Shreveport Municipal Auditorium, Shreveport, LA
Dec. 1, JQH Arena, Springfield, MO
Dec. 2, Show Me Center, Cape Girardeau, MO
Dec. 3, Verizon Arena, North Little Rock, AR
Dec. 7, Owensboro Convention Center, Owensboro, KY
Dec. 8, BMO Harris Bank Center, Rockford, IL
Dec. 9, McElroy Auditorium, Waterloo, IA
Dec. 10, iWireless Center, Moline, IL
Dec. 14, 1st Summit Arena @ Cambria County War Memorial Arena, Johnstown, PA
Dec. 15, Stabler Arena, Bethlehem, PA
Dec. 16, SECU Arena – Towson University, Baltimore, MD
Dec. 17, Cabarrus Arena & Events Center, Charlotte, NC
*All dates subject to change
ABOUT BLANCA:
Blanca made her foray into Christian music as one-third of Dove Award-winning pop/hip-hop trio Group 1 Crew. In 2015, she stepped out on her own and released her self-titled solo debut to critical acclaim. The full-length project reached the Top 10 on Billboard's Christian Albums Chart and generated two No. 1 singles, "Who I Am" and "Not Backing Down." Moreover, "Who I Am" became the highest-charting debut single by a new artist in 2015. Since embarking on her solo career, Blanca has already performed in front of more than half a million fans as part of 2015's Winter Jam Tour Spectacular and 2016's The Bible Tour. In addition, she's shared the stage with the likes of for KING & COUNTRY, Switchfoot, Family Force 5 and KB, among other high-profile acts. Her new single, "Real Love," is currently impacting radio and serves as the title track for her latest EP. For more, visit www.officialblanca.com and on her social links below.
Twitter
Facebook
Instagram
##