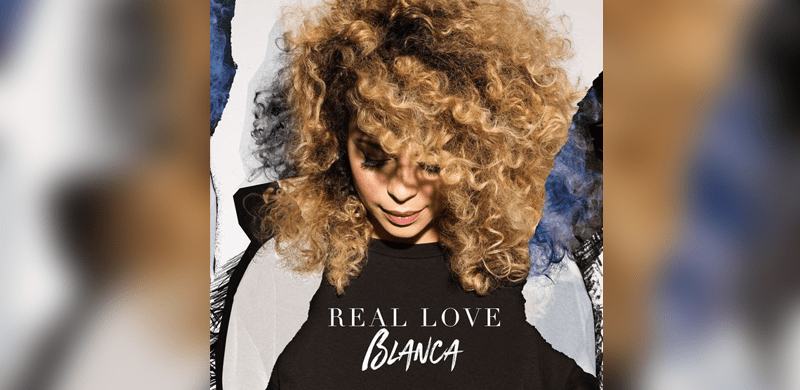 Single Already Top 20 on Spotify's Global Viral 50 Chart
NASHVILLE, Tenn. (September 6, 2017) — "Real Love," the brand-new song from powerhouse vocalist Blanca, is now available at all digital service providers and digital retailers. Upon release on Aug. 25, Spotify immediately added the fresh single to its New Music Friday Playlist, which boasts more than two million followers. In less than one week, the track had already reached Top 20 status on Spotify's all-genre Global Viral 50 Chart and Top 15 on the United States Viral Chart.
The official music video for "Real Love," which can be viewed below, also released on Aug. 25 and appeared its entire first week out on Air1.com's homepage. Air1 also added the song in advance of its official impact date, which is this Friday, Sept. 8. The video provides a sparse, stunning visual for the achingly vulnerable song.
Listen to "Real Love" here, and be sure to watch the official music video for "Real Love" below:
"Real Love" was written in the wake of the recent death of Blanca's mother, who lost her fight to cancer in December 2016. It was through facing her mother's cancer battle and subsequent passing that Blanca realized she craved more than surface religion.
"This past year I walked through one of the hardest seasons of my life. I realized in that moment that 'safe' religion—checking the boxes, making sure I appeared like I was put together—wasn't going to be enough to get me through this challenging season," the singer admits. "I vowed from that day on to go to the deepest parts I possibly could with Jesus. I vowed to stop putting limitations on God's real love for me regardless of my past mistakes, and I committed to leave 'religion' and all of my works and achievements at home in an effort to seek and find REAL LOVE."
Blanca co-wrote the soulful ballad with Emily Weisband (Hillary Scott, Natalie Grant, Lauren Alaina) and Jordan Sapp (Love & The Outcome, Building 429, Jason Derulo), who also produced the track. She'll share "Real Love," along with hits from her 2015 self-titled solo debut, on the Big Church Night Out Tour this fall alongside Newsboys, Sidewalk Prophets, 7eventh Time Down and more.
ABOUT BLANCA:
Blanca made her foray into Christian music as one-third of Dove Award-winning pop/hip-hop trio Group 1 Crew. In 2015, she stepped out on her own and released her self-titled solo debut to critical acclaim. The full-length project reached the Top 10 on Billboard's Christian Albums Chart and generated two No. 1 singles, "Who I Am" and "Not Backing Down." Moreover, "Who I Am" became the highest-charting debut single by a new artist in 2015. Since embarking on her solo career, Blanca has already performed in front of more than half a million fans as part of 2015's Winter Jam Tour Spectacular and 2016's The Bible Tour. In addition, she's shared the stage with the likes of for KING & COUNTRY, Switchfoot, Family Force 5 and KB, among other high-profile acts. Her new single, "Real Love," is set to impact radio Sept. 8. For more, visit www.officialblanca.com.
Connect with Blanca by visiting her website officialblanca.com and on her social links below:
Twitter
Facebook
Instagram
##