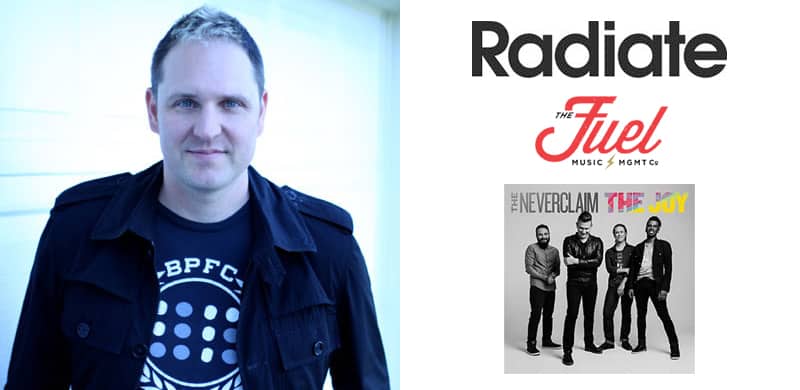 AWARD WINNING PRODUCER/SONGWRITER IAN ESKELIN CREATES RADIATE MUSIC, THE JOY TO BE LABEL'S GROUNDBREAKING RELEASE
First Single, "The Joy," Goes For Radio Adds March 27 As Fan-Driven Pledge Music Campaign Gains Momentum
Portland, OR based band, The Neverclaim, soared onto musical radars with 2012's Revival being named a top 10 Worship Leader Magazine album of the year. The recording was followed by the band's self-titled Essential Records debut in 2013 climbing all the way to No. 34 on Billboard's Top Heatseekers Albums chart and earning a top 5 worship album of the year nod from NewReleaseTuesday.com. Seeking to see lives transformed by experiencing God and His love, and having gone through a series of personal and professional refining, The Neverclaim returns with a fan-driven Pledge Music pre-order campaign for The Joy, the band's new album that is set to release July 2015.
"Over the past two years as a band, we have experienced the greatest fruit of our ministry to date. Thousands have been changed by Christ's love, all in the midst of personal tragedy, loss, disappointment and challenges we never saw coming," says The Neverclaim frontman Jeremiah Carlson. "One thing we've learned in this last season is that the joy of the Lord is truly our greatest strength. For to know his great love is joy unspeakable and when we know this, we can overcome any trial we face."
"In this world you will have trouble. But take heart! I have overcome the world."— John-16:33
Resolutely moving forward with John 16:33 at heart, Carlson and his band mates Chuck Hill (bass), Mitchell Maldonado (guitar/keys) and Beji George (drums) began working on The Neverclaim's second studio album, The Joy, with GRAMMY nominated, two-time Dove Award-winning Producer of the Year Ian Eskelin.
Eskelin, who has recorded more than thirty Top 10 singles in the United States alone, including 14 No. 1 songs, is a go-to, hit-making songwriter and producer for labels looking to boost the radio and commercial success of their artists. Having recently worked with Francesca Battistelli, Jeremy Camp, 7eventh Time Down, Newsboys, Kutless, Chris August, Sidewalk Prophets and many more, and with his songs licensed for use by ABC, NBC, CBS, Spike TV, Style Network, Soul Surfer and many other movies, Eskelin is looking to break additional ground. With The Neverclaim out of contract with Essential Records, Eskelin took the opportunity to collaborate with the band, signing them as the flagship artist on his newly formed imprint, Radiate, which is receiving distribution through The Fuel Music.
Sharing why he chose to launch his new label with The Neverclaim, Eskelin says, "I've been a fan of The Neverclaim for years, and was blown away when I saw them live at Disney's Night Of Joy. Their genuine desire to deliver the good news of Jesus with their gifts makes them a perfect fit for Radiate. From Night Of Joy to The Joy – I love how God puts cool things together!"
Taking full advantage of their producer's penchant for crafting fresh, accessible, radio-friendly pop-rock tunes, The Neverclaim's free-spirited, rock 'n' roll-riffing, gang-vocal'd lead single from the upcoming album, "The Joy," hits radio March 27. Hear a sneak peak of the infectious, worshipful chorus of the title track, along with the band's purpose behind the song, in the video teaser at https://www.youtube.com/watch?v=lN2qYSYacKM&feature=youtu.be.
"Almost every song on The Joy is centered around the joy of the Lord as our strength—our identity in Christ and the victory that's won in Christ," says Carlson. "Not that we shy away from the reality that living in a broken world affects all of us, but despite our hardships, we have access to a greater reality that fills our hearts with joy. We will face battles in life, but Jesus has won the war. We believe people are hungry for authentic joy, a joy that is not based on circumstances, but on the fact that God is for us, so nothing can be against us."
Sharing this message on the road, The Neverclaim plays about 150 concerts yearly, and has toured with Third Day, Skillet, Newsboys, Amy Grant, Michael W. Smith, Kutless, Tenth Avenue North, Matt Maher, Phil Wickham, Jamie Grace and more. Recently finishing a solid year of touring with Sanctus Real, The Rock & Worship Roadshow and numerous festivals and events like Walt Disney World's Night Of Joy, all the latest tour dates and more can be found at www.theneverclaim.com, and at the band's social sites:
The Neverclaim also partners with One Child Matters (www.onechildmatters.org), a child sponsorship organization helping to meet the physical and spiritual needs of children in poverty-stricken areas of the world. Through its ministry programs, children receive food, education, medical aid and hope in Jesus Christ.
About Radiate:
Founded by GRAMMY nominated, Dove Award-winning Songwriter and Producer of the Year, Ian Eskelin, Radiate launches with The Joy from The Neverclaim summer 2015. Eskelin's 20-plus-year resume in the music business, ranging from being a recording artist to a record executive, gives him a unique perspective in partnering with artists who are passionate about impacting culture with music.
About The Fuel Music:
Established in 2008, The Fuel Music & Management, LLC, is one of the leading independent distributors of music, CD's, tapes and vinyl records internationally and enjoys a growing base in artist merchandise sales. Based in Tennessee, the Fuel team brings nearly 70 years of combined music industry experience in record label operations, record distribution and marketing (EMI Label Group), and artist management for artists ranging from upstart bands to GRAMMY Award nominated, multi-platinum artists. More information on the company can be found at www.thefuelmusic.com.
##
Media Contact:
Rick Hoganson
Hoganson Media Relations
615-459-9870
Hoganson@comcast.net