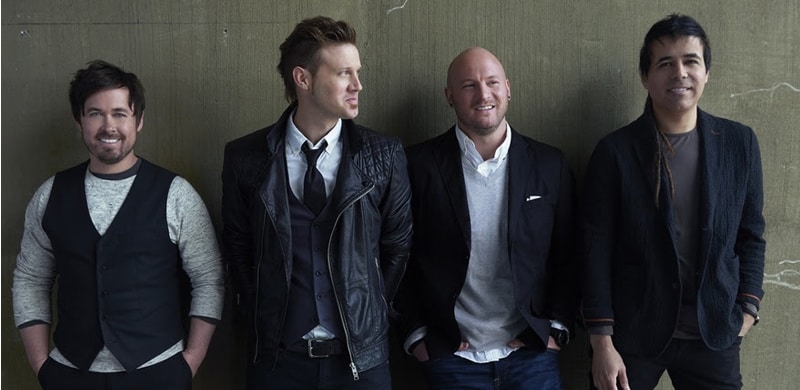 BUILDING 429 OFFICIALLY LAUNCHES THEIR UNASHAMED MOVEMENT
Band Continues On The Hits Deep Tour, Headlines Way-FM For Kids This Spring
15 March 2016 – Nashville, Tenn – When Building 429 released UNASHAMED, their latest project last fall, it was touted as the band's most powerful and anthemic album to date. The band is now excited to share their newly launched I AM UNASHAMED webpage. This is a place where you can read stories and view photos of how others are living their lives unashamed, and where you can also share your own story. The new webpage is a way to be part of a community, be inspired and encouraged daily, and so much more.
Building 429's frontman Jason Roy says, "The Scripture says, 'For I am unashamed of the Gospel of Jesus Christ, for it is in the power of God for salvation for anyone who believes.' We talk as Christians a lot about how we've been changed, how we've been set free by the love of Jesus Christ. But set free from what? We're not fooling anyone if we act like we've got it all together. For us to stand and say that we're unashamed also means at the very same time for us to be authentic. We have to share that at one time we were broken, and that the love of Jesus Christ has moved us from ashamed to unashamed."
To find out more and how you can sign up and participate, check out: Building429.com/unashamed.
Building 429 was recently given plaques from their record label to commemorate their No. 1 single, "Where I Belong," becoming RIAA Gold-certified. The group is pictured above with their key staff at Provident Label Group and management team.
Tour:
Building 429 continues on the road with TobyMac's "Hits Deep Tour," which runs through April 10. On April 20, the band will embark on headlining the WAY-FM For Kids Tour throughout the south and midwest. The WAY-FM For Kids Tour is sponsored by Compassion International. Tour dates, which are being added to daily, are listed below. For the most updated tour schedule, please visit Building429.com.
Building 429/WAY-FM For Kids Tour Dates*:
Apr. 20 – Myrtle Beach, SC
April 21 – Athens, AL
April 22 – Charleston, SC
Apr. 29 – Newburgh, IN
May 1 – Keller, TX
May 5 – Jeffersonville, IN
May 7 – Bowling Green, KY
May 12 – Panama City, FL
May 13 – Boca Raton, FL
May 14 – Tallahassee, FL
May 15 – Clarksville, TN
*All tour dates subject to change. Please visit Building429.com for the most updated information
About Building 429:
GRAMMY®-nominated and multi-award winning band Building 429 – comprised of Jason Roy, Michael Anderson, Jesse Garcia and Aaron Branch – is well-known as one of today's top artists due to their high-energy live shows, lyrically-driven and anthemic songs and their constant message of hope through Christ. Their latest release, UNASHAMED, released September 2015 and debuted at No. 2 on Billboard's Contemporary Christian Album chart. The album's first single, "Impossible," made label history this spring by receiving an astounding 95 radio adds on its add date.The single went No. 1 and was selected as one of the Best Songs of 2015 in the Christian/Gospel genre according to the editorial team at iTunes. UNASHAMED was also named one of the top 10 albums of the year.
Their previous album We Won't Be Shaken debuted at No.1 on Billboard's Christian Albums chart. The strength of the album resulted in the band's first GRAMMY nomination for Best Contemporary Christian Music Album. The first single and title track became a multi-week No. 1 hit on the Hot AC/CHR chart and AC Indicator charts, had over 246-million accumulative audience impressions, and was nominated for a Billboard 2014 Music Award for Top Christian Song and K-LOVE 2014 Fan Award in the Group or Duo of the Year category. The second single from the GRAMMY-nominated album, "Press On," reached No. 3 on Billboard's Christian Singles Chart. For the second time in the band's career, Building 429 was honored with a BMI 2013 Song of the Year award for "Where I Belong," and the single garnered the group their first nomination from Billboard's 2013 Music Awards for Top Christian Song. At the same time, the 2013 K-LOVE Fan Awards nominated Building 429 as Breakthrough Artist of the Year.
The group's fifth studio project, Listen to the Sound, released in 2011 and debuted at the top of iTunes' Christian & Gospel Albums chart. The title track hit No. 1 on the CHR chart and Top 5 on Billboard's National Christian Audience Chart. Follow up single "Made For You" reached Top 5 on the Christian CHR charts, while the project's third single, "Where I Belong," was the No. 1 song on Billboard's Christian Audience chart for 15 consecutive weeks. The RIAA Gold-certified single "Where I Belong" was Billboard's 2012 Christian Song of the Year, Christian AC Song of the Year, Christian Songs Artist of the Year and Christian AC Songs Artist of the Year.
Building 429 first broke through with its 2004 No. 1 hit "Glory Defined," which was named BMI's Christian Song of the Year in 2005. That same year, Building 429 was recognized as New Artist of the Year at the Gospel Music Association's Dove Awards.
##
Get Connected:
Twitter
Facebook
Instagram
YouTube
Media Contact:
Merge PR | Stacie Vining
Stacie@MergePR.com | 615.260.4679