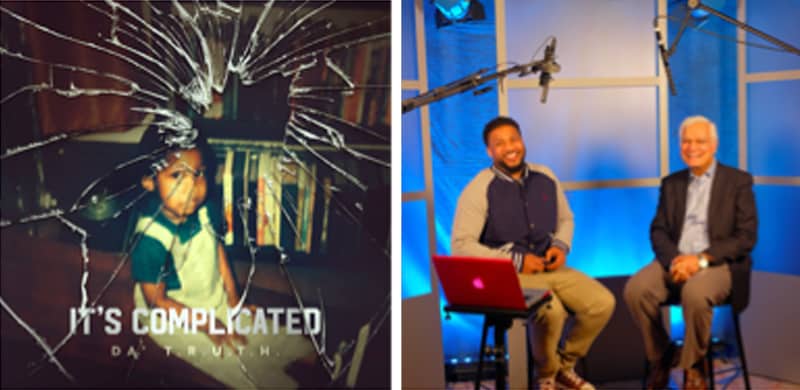 L-R: Official album artwork for It's Complicated; Da' Truth & Dr. Ravi Zacharias discussing complexities of religion for forthcoming album. (Photo credit: Ben May, courtesy of RZIM)
AWARD-WINNING HIP HOP ARTIST DA'TRUTH ADDRESSES CRYPTIC TWEET EXCHANGE WITH DR. RAVI ZACHARIAS & REVEALS LYRICS TO NEW SINGLE "RELIGION"
Official "Religion" Music Video Debuts Today
Music Single Teases Highly Anticipated Album IT'S COMPLICATED Set to Drop This Spring
Los Angeles, Calif. (March 15, 2016)— Grammy nominated hip hop artist Da' Truth shared a cryptic exchange with internationally respected Christian Apologist and author Dr. Ravi Zacharias via Twitter last week, and it triggered a worldwide response. With questions surrounding the idea of truth, God and religion, thousands of listeners from NGEN radio and Jam The Hype shared their concern for the outspoken artist wondering if he was questioning his faith. In reality it was revealed that Da' Truth wasn't confused about his Christian beliefs, but he and Zacharias were sharing lyrics from his new single "Religion."
In support of the new single, available nationwide starting today via TruthOnDuty.com and iTunes on all digital platforms, the music veteran has debuted the official music video on his website TruthOnDuty.com. The song features a real-life discussion between the multi-faceted artist and Zacharias about the complexities of religion, the theme of the new album.
"Yes, I wanted to reveal my single, but more than that, I wanted to share REAL thoughts and concerns that I have struggled with throughout my life," explains Da' Truth. "Is there one true religion? Is it arrogant to be exclusive? Can we be certain that Christianity is the only religion that God acknowledges as true? Many people, Christians included, struggle with these questions, and I want them to know they aren't alone. Through this song and my entire album, I want to provide a soundtrack that articulates some of the internal twist and turns that people experience concerning exclusivity in religion and ultimately start a discussion among each other and together we can resolve the one that has to be true."
Being brought up in a Christian household, Da' Truth went through a period in which he began to question God and the idea of religion. While he arrived at the conclusion that there is only one true God, he knows that others face the same questions everyday, but may not feel comfortable addressing them.
"The popular aphorism that 'All religions are fundamentally the same and only superficially different' simply is not true, yet this idea continues to be advanced in society. In reality, all religions are, at best, superficially similar but fundamentally different," explained Zacharias.
This topic and the new track are teasing fans of what to expect off of his highly anticipated new album It's Complicated, set to release this spring.
For more information on Da' Truth, please visit TruthOnDuty.com
##
About Da' Truth:
In West Philadelphia, born and raised, Da' T.R.U.T.H. (Emanuel Lee Lambert, Jr.) developed a love for music and has been performing for nearly 2 decades. As a leading voice in the music industry, he has been committed to using creativity in the arts to share his life experiences and faith. He has been nominated for countless awards including 2 Grammy's and 3 Dove Awards. Throughout his career, he has won 4 Stellar Awards and received countless accolades.
Now, nearly 20 years later Da' T.R.U.T.H. has sold nearly a quarter million records worldwide, toured and collaborated with some of Gospel and Christian music's premiere artists including Kirk Franklin, Mary Mary, Lecrae, Cece Winans and more! Additionally, his high energy performances & provocative lyrics have landed him on some of the biggest platforms including MTV, BET's Celebration of Gospel, Gospel Music Channel, and the Stellar and Dove Awards. Similar to his peers who have blazed trails internationally, his diverse and electric performances have allowed him to embark on more than10 international tours in Arica and Europe, Australia, Canada and Trinidad & Tobago…. With all of this, Da' T.R.U.T.H. is now CEO of the newly formed entertainment company, NXT Sound.
About Ravi Zacharias:
Ravi Zacharias is the founder and chairman of Ravi Zacharias International Ministries (RZIM). A Christian apologist for over forty years, Zacharias has spoken all over the world in strategic settings including government forums, business gatherings, and at numerous colleges and universities such as Harvard, Princeton, and Oxford University.
Zacharias has authored or edited over twenty books including the Gold Medallion winner Can Man Live Without God (Word, 1994), Has Christianity Failed You? (Zondervan, 2010), and Why Jesus, (FaithWords, 2012). Several of his books have been translated into Russian, Chinese, Korean, Thai, Spanish, and other languages.
Zacharias's weekly radio program, "Let My People Think," airs on 2152 outlets worldwide, his weekday program, "Just Thinking," on 721, and his one-minute "Just a Thought," on 488. "Let My People Think" airs as the Spanish-language program "Pensemos" on over 250 outlets in sixteen countries. Additionally, his television program, "Let My People Think," is broadcast internationally.
Media Contact:
Sundari PR
christina@sundaripr.com