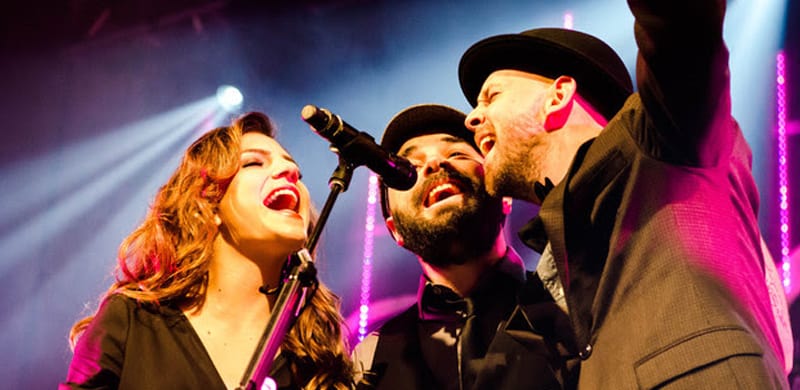 I AM THEY DEBUTS NEW RECORDING AND VIDEO FOR "NO LONGER SLAVES" TODAY
TWO ADDITIONAL NEW RECORDINGS COMING SUMMER 2016
GROUP OFFICIALLY WELCOMES ABBIE PARKER TO I AM THEY
NASHVILLE, TENN. (May 06, 2016) Fresh off the heels of label mates Tenth Avenue North's "All The Earth Is Holy Ground" tour, I AM THEY is debuting a new recording and music video for the cover of Bethel Music's, "No Longer Slaves." Watch the video below.
I AM THEY will be releasing three new digital recordings individually throughout the summer that will culminate into a deluxe digital edition of its 2015 Essential Records debut album. The songs to be released will include the aforementioned "No Longer Slaves," "Lord, I Need You" (Matt Maher cover), and new original recording "Resting Place (To The Cross)."
The group is also beginning to work on its new project that is set to release in 2017. The new project will feature the newest member of the group – Abbie Parker – who recently signed with the label and officially became a part of I AM THEY.
"Abbie has been an incredible addition to our band family," shares Matt Hein vocalist and guitarist. "She is an extremely gifted singer and instrumentalist, who not only adds to our group musically but serves and loves the Lord and others from a sweet and genuine heart.
"After playing with I AM THEY for about 9 months, I was thrilled to formally become a part of the band in April," expands Abbie. "It's honestly a dream come true to be a part of a music ministry like this. When I met this band I was working a 9 to 5 desk job and music was just a hobby, so this season of touring has been a whirlwind and a total change for me."
I AM THEY made its national debut in January 2015 with its self-titled album, which produced the group's lead single, "From The Day." The members of the band came together from several different churches in Carson City and first performed together at Solomon's Porch; a regular worship event bringing believers together from all over the city. The group was discovered at a Spirit West Coast festival "Battle of the Bands" where they won an opportunity to come to Nashville and have a song produced and recorded. In their short career, I AM THEY has already made its mark in the Christian music arena having opened for Matthew West, Chris August, Matt Maher, Brandon Heath, Big Daddy Weave, Tenth Avenue North to name a few.
##
Media Contact:
Merge PR | Lori Mahon
Lori@MergePR.com | 615.579.1266